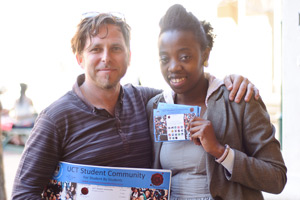 The innovators: Anthony Cohen (left), who created the Mygeni social media site, shows off printed screen grabs of the site with SRC media and communications co-ordinator Nkateko Mnisi, whose office played a key role in getting the project off the ground . Photographer: Michael Currin.
Students love to think - rightly, sometimes - that they are a unique strand of society. Now, a new just-for-students website has opened a space for UCT students to interact online and chat about their lives and particular needs.
Dubbed Mygeni and found at UCT student community, the social media website is a space for students to share and comment on information, jokes and just about anything they might find on campus (besides food). From societies and sports clubs to academic and transformation interest groups, students can create and follow pages to keep abreast of the latest developments on many fronts on campus.
When UCT alumnus Anthony Cohen approached the Students' Representative Council (SRC) with his Mygeni concept, the student leaders saw an opportunity to ramp up communication not only among students, but also between students and office-bearers.
"The whole belief is that we need to gain information that we are interested in and we are able to share with the people that are most interested in it," explains SRC media and communications co-ordinator, Nkateko Mnisi. "For the students, by the students."
Besides passively following what is already available on the site, users may create pages and upload multimedia texts about anything that tickles their fancy (within certain guidelines), and create personal profiles that include options such as adding and removing 'friends'.
"I believe we all have the right to access information; information is presented to us in many different ways, from print media to word of mouth, the web, social media and mobile devices," says Mnisi. "Technology is evolving and so is the way we communicate."
And Mnisi is in no doubt about the impact Mygeni could have on student interaction at UCT.
"You know how Facebook started at Harvard? I guess Mygeni is in that space at UCT."
---
This work is licensed under a Creative Commons Attribution-NoDerivatives 4.0 International License.
Please view the republishing articles page for more information.
---