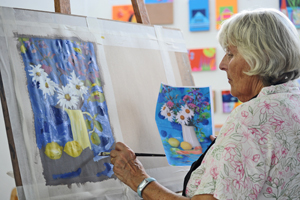 The 62nd Summer School at UCT is once again presenting lectures and courses for your enjoyment on a wide range of topics. Whether you like to dip your toes or to plunge into deep water when exploring and gaining new knowledge, there are many opportunities at Summer School 2012.
For 14 summer days in January 2012, there will be 57 topics to tempt you: from listening to the sounds of Beethoven or the quarks of quantum physics, from learning Mandarin or portrait painting, to understanding mucus and mastering social media.
Summer School is designed to offer something for everyone, so if you have an hour, a week or 15 evenings free, come and fill them with learning. There are lecture series (two to five lectures over several days), lunch-time talks (one-hour lectures), practical courses (a number of two- to three-hour sessions in art, writing, social media and maths) and introductory courses in isiXhosa, Italian and Mandarin.
The new venue for Summer School - the Kramer Building on Middle Campus - is a welcoming space: you can stroll up the historic Japonica Walk from the Rondebosch Main Road; and between lectures, recline before David Brown's monumental sculptural tableau while drinking coffee with fellow Summer School students. You may also find an interesting documentary or film companion piece to the courses you are attending in the free Extra programme.
The Summer School runs from 16 to 27 January 2012. It is advisable to pre-enrol for courses, as they do sell out quickly. No entrance qualifications are required.
For more information on Summer School and the Centre for Open Learning, send us an email, or visit UCT Summer School's website. UCT Summer School is also making active use of social media - find us on Facebook and Twitter @UCTSummerSchool.
---
This work is licensed under a Creative Commons Attribution-NoDerivatives 4.0 International License.
Please view the republishing articles page for more information.
---