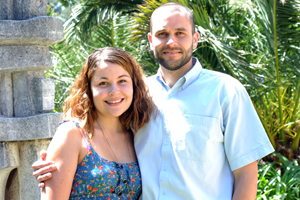 Sibling success: Dr Paul Barendse will cap his sister, Jackie, when she graduates with a Bachelor of Business Science and Marketing degree.
When Dr Paul Barendse, senior lecturer in the Department of Electrical Engineering, caps his sister this week, it will mark her triumph over what began as a bumpy university career.
Jackie Barendse (23) will graduate as one of the top students in her Bachelor of Business Science and Marketing class.
She will be moving to Durban in 2012 to take up a position in Unilever's graduate programme.
When Jackie started her studies she was falling behind badly, particularly in maths.
"Coming from a high school which was not strong on academics, I struggled with the transition to university."
After a great deal of soul-searching, Jackie deregistered. She picked up her studies a semester later, having decided to do the course over five years.
As part of UCT's Education Development Unit programme, she received a great deal of extra support.
"They were like a little family to me."
Jackie plans to work on different aspects of marketing at Unilever.
"I'm excited about starting my career. In the beginning I kept thinking, why am I here? I'm not good enough. Now I see it was all worth it."
Jackie heaped praise on her brother, saying she is thrilled he will cap her on her big day.
"I am very close to him. He's been so supportive."
"I'm an extremely proud brother," Paul said. "Even though Jackie got off to a bumpy start at UCT, she rose above the challenges to excel academically.
"This is a true testament to her character."
---
This work is licensed under a Creative Commons Attribution-NoDerivatives 4.0 International License.
Please view the republishing articles page for more information.
---