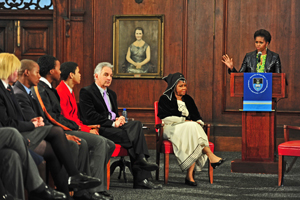 Self belief: US First Lady Michelle Obama (right) speaks to learners at UCT, in the company of vice-chancellor Dr Max Price and former vice-chancellor Dr Mamphela Ramphele.
For 45 or so minutes they listened attentively, posed their questions nervously but diligently when prompted, and were the very picture of self-restraint - to be expected when having an audience with the American First Lady and surrounded by cameras, microphones and security personnel.
The moment the formalities were declared over, however, the fetters came off. And the 50 high-school learners who had been invited to UCT to meet with Michelle Obama on 23 June shook off their reserve and swarmed her, delighted.
Obama responded in kind.
"It was very inspiring to meet someone successful who has gone through the struggles that we have gone through, and knowing that we can also be as successful as someone like her," enthused Salama Bavugamenshi (17) from the Oude Molen Academy of Science & Technology.
As vice-chancellor Dr Max Price pointed out to the learners in his welcoming talk - and which Obama then echoed - the day was all about them.
"The essence of Mrs Obama's message reinforces a core part of UCT's mandate," said Price; "to provide opportunities to learners with talent and motivation to gain access to a world-class higher education, regardless of their social class and in spite of their poorer schooling."
And that's exactly the message that Obama wanted to leave the learners, all from five local schools: the Cape Academy of Mathematics, Science and Technology in Constantia; the LEAP Science and Maths School in Pinelands; Oude Molen; Sophumelela in Mitchell's Plain; and Spine Road High School, also in Mitchell's Plain.
Obama urged them to see and embrace the promise in themselves, and encouraged them all to believe in themselves and in what they can achieve. "Getting into a school like this isn't some kind of magical process," she said.
She recounted her own life story, and a little of that of her husband, and held up the example of former vice-chancellor and guest Dr Mamphela Ramphele, who, similarly, had to overcome many obstacles. And she advocated the virtues of visualisation - "see it" - and hard work.
"I can see the same promise in all of you as I do in my own girls," she told the learners. "When I see you, I see them; when I see them, I see you."
Inspirational.
YouTube Video: Michelle Obama's visit to UCT inspires young learners
---
This work is licensed under a Creative Commons Attribution-NoDerivatives 4.0 International License.
Please view the republishing articles page for more information.
---