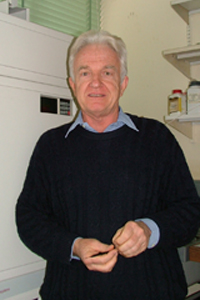 The late Assoc Prof Wolf Brandt.
UCT is sad to report the death of Associate Prof Frederich 'Wolf' Brandt (molecular and cell biology) from a heart attack on 15 June, two days after his 66th birthday.
Brandt was born in Anderbeck, East Germany in 1945 and raised in Namibia. He obtained his BSc and BSc Hons degrees in chemistry from UCT, the latter in 1968. He obtained his PhD degree in biochemistry at UCT in 1973, under the supervision of the late Professor Claus von Holt on the amino acid sequence of chicken histone F3.
He joined the academic staff of the former Department of Biochemistry in 1974 as a lecturer and progressed through the ranks to Associate Professor in 1981.
His histone sequencing work led to important insights into structure/function relationships, such as the multidomain structure of histones, with highly conserved central sequences and more variable N- and C-terminal domains.
Brandt also made important contributions to the area of histone modification, identifying methylation and acetylation sites and their location in the exposed N-terminal tails, central to modern day epigenetics.
In more recent years, he studied the biochemistry of polyphenols and their role in plant and yeast desiccation tolerance. He published 73 papers in peer-reviewed journals during his career, and his histone work in particular, has been very well cited.
He is survived by his wife Joyce, and daughters, Julie and Claudia.
---
This work is licensed under a Creative Commons Attribution-NoDerivatives 4.0 International License.
Please view the republishing articles page for more information.
---