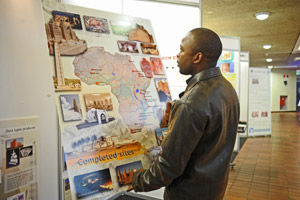 As part of UCT's Africa Day celebrations, the International Academic Programmes Office (IAPO) hosted an exhibition to spotlight the university's academic links with institutions around Africa.
Among the programmes on show were the African Centre of Excellence for Studies in Public and Non-Motorised Transport, the Khayelitsha Cervical Cancer Screening Programme, the African Centre for Cities, the Democracy Africa Research Unit and the African Cultural Heritage Sites and Landscapes Project.
The latter is run by Professor Heinz Rüther of the School of Architecture, Planning and Geomatics. The project consists of a database that holds spatial, geographic and photographic information of heritage sites and structures across the continent and beyond. These were collected by Rüther and his scientific officers via laser scanning, conventional surveys, GPS, traditional photography and photogrammetric imaging.
This data is then used to compile information-rich geographic information systems, faithful 3D computer models, maps and building plans of these hardly-seen sites.
"The idea was to create an integrated database of African heritage, where we take a holistic approach," says Rüther.
This work is licensed under a Creative Commons Attribution-NoDerivatives 4.0 International License.
Please view the republishing articles page for more information.
---