Ahead of the International Labour Organisation's World Day for Safety and Health at Work on 28 April, Monday Paper takes a snapshot of the work of the health and safety department at UCT. The message is clear: it's an issue that cannot be addressed in isolation. Procedure and prevention is serious business, and if left unnoticed, the consequences could pose a very real threat, writes Daniella Pollock.
Message from vice-chancellor Dr Max Price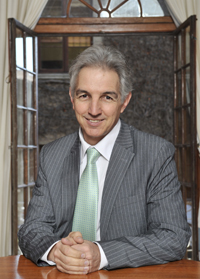 As we celebrate the World Day for Health and Safety at Work on 28 April 2011, I would like to like to take this opportunity to express senior leadership's commitment to making UCT a healthy and safe environment for all. The health and safety culture should be embodied and embraced in all facets of university life. Our institution attracts many students and academics from all over the world - that is one reason we use internationally recognised health and safety standards and systems as our benchmark.
There is almost no activity that does not have some implication for health and safety. Whether you are planning a research programme or a soccer match, dealing with large classes that might require quick evacuation, or are responsible for offices and cupboards that are being (ab)used for storage and might constitute fire hazards, whether transporting students on a field trip or dealing with fumes and dust that accompany building renovations, health and safety should always feature in your planning considerations.
I would like to thank our many staff volunteers safety, health and environment representatives, evacuation marshals, fire marshals and first aiders, and the various line managers who actively assist us in achieving the goal of making the university space a healthy and safe environment for all.
I want to say a special thank you to the Occupational Safety, Health and Environment Department, which facilitates the functioning of the occupational safety, health and environment system at UCT.
Help us make our university campus environment a healthy and safe place for our university community.
The Occupational Safety, Health & Environment Department can be contacted here.
---
This work is licensed under a Creative Commons Attribution-NoDerivatives 4.0 International License.
Please view the republishing articles page for more information.
---