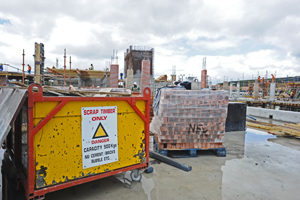 Be warned: Construction sites are dangerous. Safety signs are there to protect you.
Michael Langley outlines some key health and safety-related matters. For a full listing of FAQs, information about occupation health, and course listings, click here.
Safety in the laboratory
Though UCT has to take into consideration the risks associated with working in laboratories, laboratories are different from your run-of-the-mill office, and every laboratory has its own safety regulations and checklists. At the beginning of each year we do safety talks to all first-years who will be working in laboratories where they might be exposed to hazardous substances. In the faculties of science, health sciences and engineering, the students are issued red SHE 2011 stickers to show that they've attended these talks. No student can enter a laboratory without displaying their student card, sticker attached. At the talks, we give them the general information. From there on, departments carry out specific training and inductions.
Food and hygiene
We facilitate the process of hygienic audits of all areas where food is processed. This includes all formal and informal vendors on all our campuses, all catering residences, and restaurants at the Baxter Theatre and the Graduate School of Business.
Construction works
Excavation and building is still the order of the day as construction continues on the upper, middle and lower campuses. As is the case for all construction work areas, all reasonable precautions have been put in place by the construction companies, in accordance with the law for health and safety at construction sites and the immediate surrounding environs. The UCT community is requested to observe all safety signs and to co-operate fully by respecting the clearly demarcated alternate pedestrian and car routes on these sites.
Field trips
Students are medically covered by the university insurancewhile on official fieldtrips or community projects. Staff who are injured while on an official fieldtrip or official projects are covered by COIDA (the Compensation for Occupational Injuries and Diseases Act). COIDA also covers staff injured while on official training.
---
This work is licensed under a Creative Commons Attribution-NoDerivatives 4.0 International License.
Please view the republishing articles page for more information.
---