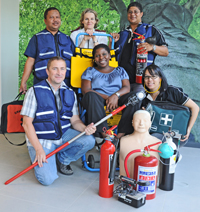 Ready for anything: The Health & Safety Department is staffed by (from left, back) Michael Langley (manager), Sue Key (senior occupational health nurse) and Barry Platen (officer assessing physical areas, fire and public safety and contractor safety). (Middle) Angie Ngalonkulu (administrator). (Front) Brett Roden (environmental risk officer) and Charlene Esau (occupational health nurse).
The newly refurbished entrance to Shell court - home to the Properties and Services Department and health and safety unit - calls to mind a just-minted sixpence. But it belies the fact that the people inside regularly burn the midnight oil to make sure that the university community is safe at work. Health and Safety Manager Michael Langley answered some key questions:
MP What does the department do?
ML It ensures legal compliance for processing and following up on injury-on-duty claims and runs the Occupational Health Unit for staff and students working in hazardous environments. Team members do hazardous chemical, fire, ergonomic, first-aid and general risk assessments in all areas. They also visit departments to check on health and safety compliance, facilitate occupational safety and fire-safety talks, and investigate incidents. Other functions include training in first aid, training safety representatives and fire marshals; conducting safety inductions with staff, students and contractors; safety audits on all teaching and research and construction sites; and planning disaster exercises.
MP What are the challenges facing health and safety?
ML The seriousness of health and safety is often undermined and its central role in the person, home and work triad is often overlooked. People's perceptions are that they live and work in isolation, and getting them to accept that, in the workplace, each person is responsible for his own and others' health and safety is a big challenge. A health and safety mindset requires behaviour modification, as it is risky behaviour that results in unsafe conditions.
MP What is the strangest thing to have happened?
ML Everything about UCT is strange! Puff adder bites, cranes falling over, batteries exploding in their cabinets, or waste chemicals exploding. But the officials believe these incidents make it an exciting working environment.
---
This work is licensed under a Creative Commons Attribution-NoDerivatives 4.0 International License.
Please view the republishing articles page for more information.
---