UCT's honorary degrees, which will be conferred at the June and December graduation ceremonies this year, will celebrate heroes in teaching, reconciliation and computer technology.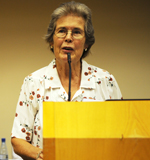 Mary Burton will receive an Honorary Doctorate in Social Science at the December graduation. A human rights activist for five decades, Burton joined the Black Sash in 1965, and served as a commissioner in the Truth and Reconciliation Commission. Burton was also active in the Surplus Peoples Project, the National Council of Women, the Civil Rights League and the SA Institute of Race Relations. She is a recipient of the Order of Luthuli, the Order of Disa, and the Reconciliation Award.
Stella Petersen will receive an Honorary Doctorate in Education at the June graduation ceremony. Petersen holds a BSc, an MSc and a BEd, all from UCT. She was the first South African to study at Syracuse University in New York, earning an MSc in Education in 1949. Petersen taught biology for many years at Livingstone High School in Cape Town before retiring in 1970. Until 2005, Petersen worked at Kirstenbosch Botanical Gardens, where she achieved public recognition for her commitment to conservation awareness.
David Potter will receive an Honorary Doctorate in Engineering Science at the December graduation. Potter is an inventor, entrepreneur and a philanthropist. In 1980 he founded the software company Psion, which led the creation of the palmtop and PDA markets. Potter then launched Symbian Limited, which created an operating system for cellphones. Over 40 postgrad students have been supported by the David and Elaine Potter Foundation's fellowship programme at UCT.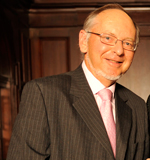 Emeritus Professor Martin West will receive an Honorary Doctorate in Literature at the June graduation. West's award recognises his role in governance and transformation at UCT. In 2008 West retired from UCT after serving for 17 years as a deputy vice-chancellor, and later as vice-principal. He held the student affairs portfolio for over a decade, playing a major role in shifting student politics to a system of co-operative governance. He also played the key role in creating USHEPiA (University Science, Humanities and Engineering Partnerships in Africa).
"This year's honourands were selected after careful consideration of what they have each contributed, not only to their respective areas of expertise, but to education," said vice-chancellor Dr Max Price.
---
This work is licensed under a Creative Commons Attribution-NoDerivatives 4.0 International License.
Please view the republishing articles page for more information.
---