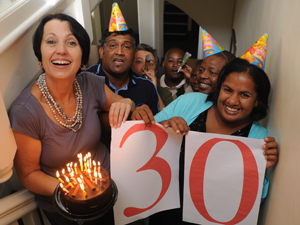 Happy birthday: The Publications and Information team celebrates the 30th volume of Monday Paper. (From left) Helen Théron, Morgan Morris, Chris McEvoy, Banzi Damba, Myolisi Gophe, Raymond Botha and Sharifa Martin (Absent: Katherine Traut.)
As Monday Paper enters its 30th volume this year, we look back on three decades of newsmongering, our pens and cameras having recorded a colourful and sometimes dramatic wealth of history at UCT. Helen Théron reports.
The staff communiqué, an advertising bulletin dressed up as a newsletter in those days, first appeared on January 1982. Yes, we've endured jibes about being the Tuesday Paper or the Wednesday Paper, depending on the efficiency of departmental mail sorters. We even tolerated the brief appearance of a rival Friday Paper, published by the underground press in 1984 during the notorious years of press restrictions. Later came the highly entertaining Not the Monday Paper, authored by a team of world-class academic pedigree, freed gloriously (but briefly) from the shackles of peer-review.
We've documented protracted student and staff resistances to the abuses of the apartheid era, starting with front-page news of a "dignified protest" on May 2, 1983, to express the university's opposition to the quota clauses in the Universities Amendment Bill. And when the International Association of Universities declared in 1984 that UCT was the only acceptable South African university, the UCT community read about it in Monday Paper.
Monday Paper has spotlighted the achievements and contributions of scores of intellectual giants. Many of these luminaries are still making news at UCT. (The torsos were sleeker back in the '80s and '90s, and hairlines still lapped the high-water mark.)
We've also undergone a physical metamorphosis. In 1985 Monday Paper shrank from its tabloid size to an A4 format, one that was maintained until the team revamped the newspaper in 2000.
Looking back it's clear some things never change. Consider these headlines: "Student digs sought", "Cost of medical aid to rise". That was 30 years ago. And when last did you last read headlines like these: "The staff's year-end big splurge" (1982), and "Academics get 21 percent" (1984)? Ah, the heydays.
There have been some eye-catching headlines (such as "Remodelling Jagger's Rear"), and gaffes too horrible to mention (not in our time, mind). We've also recorded some intriguing news snippets, like the report that a parcel of blood-sucking leeches (Slugella vampiri) had gone AWOL on campus.
Apparently the zoology department had imported these delightful creatures from California. There was proof that the parcel had been cleared through customs, but after that poof! Gone! The Monday Paper didn't say if they ever turned up in someone's pigeon hole in Bremner, or whether they were eventually apprehended while registering for semester abroad studies. Tsk, tsk. Bad reporting.
We've documented the country's agonising battle against HIV/AIDS and UCT's response to the crisis. Keeping our camera flashes in check because of eye damage he sustained while incarcerated on Robben Island, we photographed former president Nelson Mandela receiving an honorary degree Doctor of Laws (1990) from UCT. We reported on the death in 2002 of the Queen Mother, a UCT alumnus (honorary Doctor of Laws degree, 1947) and an integral part of UCT's history. We followed billionaire alumnus and honorary graduate Mark Shuttleworth into space (2002), interviewed UCT Nobel Laureate Sir Aaron Klug about the controversy surrounding the discovery of the double-helical structure of DNA, this to mark the 50th anniversary of its discovery (2003), and captured Einstein's Miracle Year (2005).
With UCT flying flags half-mast, we featured a tender photograph of the late Walter Sisulu and his wife, Albertina, to mark the passing of this great icon (2003). We also recorded Prof JM Coetzee's 2004 Nobel Prize for Literature and the once-in-a-lifetime eclipse phenomenon of the transit of a petit Venus across the vast and fiery face of the sun (2004).
Importantly, Monday Paper has been witness to the multi-faceted transformation of this institution, guided by no fewer than four vice-chancellors, Dr Stuart Saunders, Dr Mamphela Ramphele, Professor Njabulo Ndebele and Dr Max Price, and two chancellors, Harry Oppenheimer and Graça Machel. Here's to the next 30 volumes! Imini emnandi Monday Paper!
---
This work is licensed under a Creative Commons Attribution-NoDerivatives 4.0 International License.
Please view the republishing articles page for more information.
---