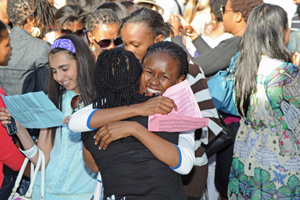 Healthy dose of jubilation: Joy was contagious at the final results bash at the Faculty of Health Sciences yesterday.
It seemed appropriate that the notorious Cape Doctor would show up at the annual final-year results bash at the Faculty of Health Sciences, when 183 new doctors (representing a 98.4% pass rate) formally received their results.
In a message read by deputy dean Professor Sue Kidson, dean Professor Marian Jacobs (in the US at the time) expressed her joy at the results, and paid tribute to the students and those who had supported them during their journey of six years.
"I am at Harvard, participating in a meeting which will have important opportunities for our faculty, so I hope that you understand and that I am forgiven. I will definitely be at graduation, up there reading all the names that I have practised so carefully in the past year, and ask you to look up at me as you wait to go onto the stage (and not to fall head first into the VC's lap!).
"This is the last time we make contact before you graduate as health professionals; and with each one of you, it is a moment that I treasure."
Traditionally the results pamphlets are thrown from the balcony at the Fuller Building, and this year wind dispersal aided the process.
And then began the rounds of hugs, laughter, and tears of joy. Among the festive throng were 45 newly qualified occupational therapists (an 88% pass rate for the course), 42 physiotherapists (98% pass rate), 20 speech-language pathologists (100% pass rate) and eight audiologists (89% pass rate).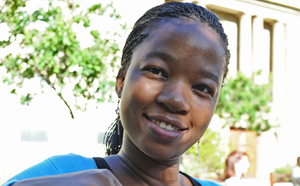 "It feels great! It's over!" said a beaming Sarah Masola (23) (left), who came from Mpumalanga to study medicine at UCT. "It was stressful, but manageable."
Masola is the first doctor in her family. Who was the first person she called with the good news?
"My mother. She was too excited. She couldn't speak!"
Masola plans to do her community service in Pretoria, and then hopes to return to UCT to specialise.
"But tonight I'm going to party!"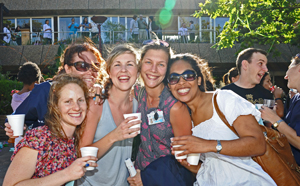 Women students shone. The award for the top MBChB student went to Jessica Rule, while the faculty's Gold Medal was awarded to Michaela Hopley (third from left). Top students in the allied health sciences were Genna Irving (occupational therapy), Charlene Marshall (physiotherapy), Tarryn Sparg (audiology) and Jane Harrison (speech-language pathology).
(To view footage, please go to the UCT YouTube Channel).
---
This work is licensed under a Creative Commons Attribution-NoDerivatives 4.0 International License.
Please view the republishing articles page for more information.
---