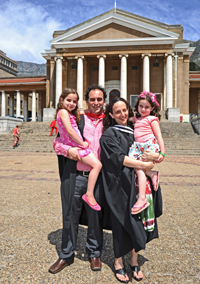 Family plan: Cal Volks (right) with partner Dr Sascha Edelstein and their daughters Leila and Kiera.
There's a first time for everything in a relationship - and although Dr Sascha Edelstein has several degrees under his belt, this is the first time he'll be capped by his partner, Cal Volks.
Edelstein (of UCT's Department of Obstetrics and Gynaecology), who is graduating with an MPhil in reproductive medicine on 21 December, has promised Volks (director of the HIV/AIDS Co-ordination Unit, better known as HAICU) that this will be his last degree - at least for a while.
The list of Edelstein's degrees is impressive. He graduated previously with an MBChB, winning the UCT Cuthbert Crichton Prize for Obstetrics and Gynaecology. After working in the UK, he completed an MPhil at UCT in environmental and geographical science, graduating with distinction. Then followed a World Bank project for a number of years, after which Edelstein returned to UCT, graduating in 2008 with an MMed - again with distinction - and winning the obstetrics and gynaecology department research prize
Edelstein says he was influenced to specialise in infertility by Volks' experience of struggling to conceive. The successful outcome, following medical intervention, was Leila, now five, and Kiera, now three.
"I want to work with this group of people because I understand something of the cultural, physical, emotional and financial hurdles one might need to jump to have children," says Edelstein. "The modern-day developments in this field are very exciting."
Like many working parents, both say it was tough parenting young children while working - and, for Edelstein, completing the registrar exams. He wrote the primary exam when Leila was born, and the exit exam on Kiera's arrival; but it was all worth it.
The couple share role models in the form of Health Sciences dean Professor Marian Jacobs, and the head of the Department of Obstetrics and Gynaecology, Professor Lynne Denny. Edelstein also paid tribute to Professor Zephne van der Spuy, Professor Silke Dyer and others in the department for their teaching and research supervision.
---
This work is licensed under a Creative Commons Attribution-NoDerivatives 4.0 International License.
Please view the republishing articles page for more information.
---