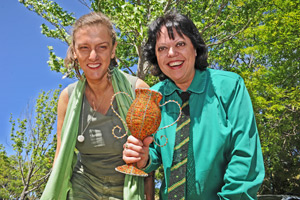 Green fingers: Terri Grant (right) and Claudia Kalil.
"I was not the most environmentally friendly person; but now, having done work and research on the harm each individual can cause, I feel a lot more aware of my environment and I will definitely make sure I play my part."
This reflection, by a student on the Professional Communication Unit course in the Faculty of Commerce, illustrates a global challenge: how to make students green. The course has won the originators, the PCU's Terri Grant and Claudia Kalil, the Backsberg Group Sustainability Award at the 2010 Green Campus Initiative Awards ceremony held at UCT recently.
Grant, head of the PCU, said: "For the course in 2008 we selected an institutional scenario, UCT's sustainability policy and the work of the Green Campus Initiative (GCI) to provide the content and a context in which to embed the entire communication module. It worked so well, we extended it in 2009 and 2010. Winning the Green Campus Group Award this year sends a powerful signal to the UCT community that environmental sustainability on campus is all of our business."
Congratulations came from environmental consultant Sarah Rippon: "Well done on your foresight and vision in bringing sustainability into the core of your curriculum. I, too, am convinced of the educational value of setting this topic."
In her recommendation, she wrote: "The topics for the course have ranged from energy efficiency, water conservation, water recycling, and how to encourage behaviour change among students and staff towards greater environmental responsibility. From the feedback I've obtained from students, I am convinced that they develop commitment to environmental sustainability as a result of this course. The focus of the student research topics on the context surrounding them is a powerful means of education and change towards a more sustainable campus and society."
Grant said the underlying collaborative teaching and learning approach used was Scenario Pedagogy.
"We have used this for developing business and academic communication in selected short and core PCU courses over the past 10 years. It's a collaborative model of teaching and learning that aims to enhance the learning, interest and motivational aspects for participants of an educational experience, and to broaden the educational goals achieved in the classroom. In this way, it supports the goals of higher education by producing graduates with the skills and competencies of critical and analytical problem-solving, effective communication, working in diverse teams, self-management and organisation, information processing, and use of technology within a real-life context."
---
This work is licensed under a Creative Commons Attribution-NoDerivatives 4.0 International License.
Please view the republishing articles page for more information.
---