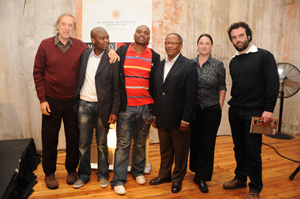 Writing home: At a recent discussion on reconciliation were, from left, Ariel Dorfman, Thando Mgqolozana, Niq Mhlongo, Prof Njabulo S Ndebele, Henrietta Rose-Innes and Kevin Bloom.
Given his interest in the topic, there are few better places than South Africa for famed Argentine-Chilean-American writer and human-rights activist Ariel Dorfman to sit down with up-and-coming writers and talk literature and reconciliation.
So in a recent discussion, titled Suspect Reconciliation! A dialogue between Ariel Dorfman and four young South African writers and arranged by UCT's Archive and Public Culture Research Initiative and the Nelson Mandela Foundation, Dorfman debated reconciliation and generational differences with Professor Njabulo S Ndebele, a senior research fellow with the initiative, and a panel of four South African writers born in the 1970s and 1980s - Kevin Bloom, Thando Mgqolozana, Niq Mhlongo and UCT graduate Henrietta Rose-Innes. (In the audience were a few more writers, young and old.)
"For these young authors writing now, reconciliation doesn't have the same meaning and the purchase that it has for people active in the anti-apartheid struggle or who experienced apartheid," says UCT's Professor Carolyn Hamilton, holder of the South African Chair in Archive and Public Culture and founder of the Archive and Public Culture Initiative.
So, no surprise, the authors had different concerns from their older counterparts. Topics that came up were xenophobic violence, cultural practices, and racial division, identity, guilt, anger, and artistic struggle.
Dorfman challenged South Africans to examine the full implications of not having had a revolution but, instead, a negotiated settlement as a "transitional mechanism to the future", reported Ndebele. While the transition was "intensely and wonderfully intellectual", it delayed the "rapid, if often tragic, transformative action that normally accompanies violent revolutions".
"The four young writers, in their different ways, called for social reconnection as the vehicle for transformative action," added Ndebele. "In doing so, they marked out an essential feature of our own South African revolution: thoughtful and creative social action."
---
This work is licensed under a Creative Commons Attribution-NoDerivatives 4.0 International License.
Please view the republishing articles page for more information.
---