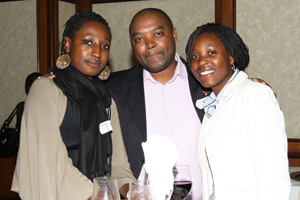 Catching up: DAD's Lungile Jacobs (middle) with alumnae Nyasha Bimha (BSocSc, 2008), left, and Irene Chikumbo (BA 2007).
Meikles in Harare was the venue of choice for some 80 UCT alumni recently, and Professor PJ Schwikkard, dean of the Faculty of Law, hit the right opening note when she remarked that it never takes a new member of staff long to appreciate that a major source of academic prowess and interaction comes from the Zimbabweans in the class.
Collectively, the gathering represented over 50 years of UCT's history. In mentioning the amazing atmosphere in Cape Town during the soccer world cup, Schwikkard referred to the "great shame" of xenophobic incidents in South Africa.
"Only since 1994 have we become part of Africa, and Africa has truly become part of us. UCT now talks about its Afropolitan role. In the law faculty, for example, our two new National Research Foundation Chairs are in African Security and Justice, and African Ubuntu and Jurisprudence, and in 2011 we will have a Chair in African Comparative Law. The overall student population also reflects this change; 3 200 of the total of 23 000 students are from Africa, and 700 are from Zimbabwe."
In his address, Judge Dennis Davis referred to an earlier visit to Harare.
"In 1989 when a group of us met with the ANC, I never thought that in 2010 I would be talking to you about the first 15 years of our constitutional democracy."
He added: "While accepting that the realities of an economy have to be taken into account, and while also accepting that South Africa's experience is by no means perfect, the success of the Treatment Action Campaign and the Grootboom case are examples of where the socio-economic rights of our Constitution, backed by strong civil society support, do meaningfully impact on the lives of the people."
The faculty's Professor Evance Kalula described highlights of the recent International Labour Organisation survey of Southern Africa, of which he had been a part. He referred to the work of "so many courageous people on the ground in Zimbabwe, including several alumni of the faculty, of whom we are so proud".
Judge Davis's talk at the legal function the following evening is available as a podcast here.
---
This work is licensed under a Creative Commons Attribution-NoDerivatives 4.0 International License.
Please view the republishing articles page for more information.
---