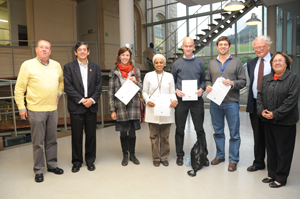 Attending the Best Publications Awards ceremony for young researchers were (from left) Prof Dave Beatty, Emer Prof Greg Hussey, Dr Susan Cleary, Nazma Mansoor, Dr Graeme Meintjes, Dr Thomas Scriba, Emer Prof Wieland Gevers and Prof Marian Jacobs.
Young medical researchers were honoured for their outstanding output at the first Best Publication Awards held by UCT's School of Medicine on 26 July.
Opening the ceremony, deputy dean Emeritus Professor Greg Hussey said that he hoped the awards would become a regular event, and would encourage and retain young researchers at the faculty.
"We have many researchers out there, but we don't always know what they're doing," said Hussey. "We need to develop strategies to recognise their work, and keep them with us."
Guest speaker at the event was former UCT deputy vice-chancellor Professor Wieland Gevers, who spoke on the need for consilience, meaning the unity of knowledge, in approaching medical research.
"There are almost no new ideas under the sun, so researchers can't be too focused in their readings. They should be more open-minded, and read around their topic to generate new ideas."
Gevers also advised young researchers to avoid predicting their futures.
"You have no idea what the next ten years will bring, so you should never dwell on the idea that you won't be able to make an enormous contribution to science.
"But," he added, "it's vitally important to remember that great effort is essential in creating new opportunities."
The 21 entries were divided into three categories, namely basic, public health and clinical sciences.
Winner of the public health science category was Rory Leisegang for his paper, Early and late direct costs in a southern African antiretroviral treatment programme: A retrospective cohort analysis.
Taking the clinical science award was Dr Graeme Meintjes for his work, titled Novel relationship between tuberculosis immune reconstruction inflammatory syndrome and antitubercular drug resistance.
The basic science award was won jointly by Nazma Mansoor and Dr Thomas Scriba for their paper, HIV-1 infection in infants severely impairs the immune response induced by Bacille Calmette-Guérin vaccine.
---
This work is licensed under a Creative Commons Attribution-NoDerivatives 4.0 International License.
Please view the republishing articles page for more information.
---