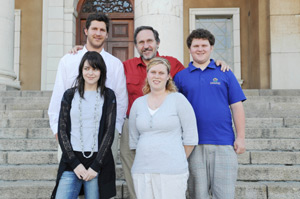 Ties that bind: (Front left back) Bruce Meissner, Prof Peter Meissner, and Murray Meissner. (Front) Rebecca Blundell and Robyn Meissner.
Professor Peter Meissner is a man who believes in freedom of choice. So, when his children were of an age to go to university, he gave them carte blanche to choose any institution they liked ... as long as it was UCT.
Who could blame him? After all, the place is in his bones, and in his blood. With a history at UCT stretching back many years, Meissner is currently Professor and Chair of Medical Biochemistry.
Indeed, the Meissner family's ties to this august institution run so deep that this week Meissner will perform the honour of capping his daughter, Robyn, when she graduates with a BSc in Occupational Therapy.
And, as if that wasn't enough, his son Bruce is to marry his sweetheart, recent UCT BA graduate Rebecca Blundell, at Jammie Hall next month. Blundell, 22, obtained her BA in English, art, history and media.
But the ties to UCT don't end there: Bruce is also a recent UCT graduate, having obtained his BA in Visual Arts. And younger brother Murray is a first-year BSc chemical engineering student. These truly are "the ties that bind ..."
Asked about the capping, Meissner said it was a rare and special honour to be able to perform this duty for his only daughter, Robyn.
"I have no doubt it will be a wonderful experience, and it's a wonderful gesture on UCT's part to allow family members to cap each other," he said.
Capping Robyn would not only be emotional for him, but also "very satisfying indeed". An added dimension to the occasion would be that Robyn is graduating in the same faculty as her dad - health sciences.
On the subject of the wedding at Jammie Hall, Meissner says he suggested it "in jest" at first, but it wasn't long before the idea took hold in the couple's minds, and the rest, as they say in the classics, is history.
Where did the happy couple meet, though? On the beach? In a coffee shop? On the internet? Where else, except at UCT! Meissner's own association with UCT goes back "forever". He became a student at the university in 1975 and, well, he never left.
Perhaps the only question that remains to be answered is where future grandchildren will be educated. If Meissner has his way, the answer will be short and simple: anywhere they like, of course ...
---
This work is licensed under a Creative Commons Attribution-NoDerivatives 4.0 International License.
Please view the republishing articles page for more information.
---