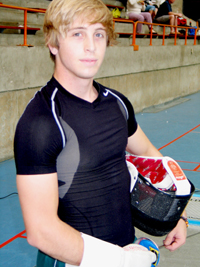 Poised: UCT fencer Jacques Viljoen took the men's foil title at the Western Province championships and is aiming at the national senior title.
Top-ranked South African fencer Jacques Viljoen sees himself as an athlete and strategist. Both are important components in this modern sport rooted in 12th-century Europe.
But tradition, athleticism and tactics aside, there's a hugely enjoyable aspect to fencing in the 21st century.
"I have to admit, what could be cooler than sword fighting?" Viljoen asks.
Vice-president of the UCT Fencing Club and chairperson of University Sport South Africa (USSA) fencing, Viljoen underscored his standing again on 10 May, winning the men's foil title at the Western Province championships at the UCT Sports Centre.
Viljoen is the country's top-ranked male foil fencer and has been for some years - except in 2007, when he took a gap year and fenced professionally in Europe, competing on the world junior circuit.
Nationally, the second-year fine-arts student has won many age group championships and most of the senior opens on the national circuit. But he has his sights set on bigger things. Last year he was placed second at the Senior National Championships in Pretoria.
"I hope to go one better this year and take the title at the SA nationals. I consider my best results to be those from international or foreign domestic competitions. I medalled and won a number of British tournaments, which include a second place at Cambridge earlier this year."
Last year Viljoen bagged the UCT sports award for best first year, "quite an honour".
Joint third at the provincial championships was UCT's Yasmin Henkel, who also won the Women's Foil on 9 May. (A WP fencing rule allows the top-ranked woman fencer to compete in the men's event.)
"Yasmin beat many experienced men fencers to make the semi-final, possibly her best result yet," said Viljoen.
Club president Michael Malahe was placed third in the men's epée.
UCT will host the 2009 Senior National Championships on 13 and 14 June, followed by the USSA Fencing Championships from 19 to 23 June
---
This work is licensed under a Creative Commons Attribution-NoDerivatives 4.0 International License.
Please view the republishing articles page for more information.
---