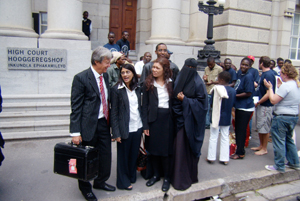 Courting equality: From left, Francois Joubert SC, Fatima Khan, Advocate Rosslyn Nyman, main applicant Mohamed Said (back) and Halima Dahira Bootan are taking the SA Police to task.
The UCT Law Clinic's Refugee Rights Project will wait until 14 June to hear judgement in what could be a precedent-setting case for South Africa; a case of unfair discrimination on the grounds of xenophobia against the South African Police Service (SAPS).
It is the first case to be presented before the new Equality Courts as a High Court matter in the Western Cape, and was brought before the court by the UCT Law Clinic, acting on behalf of a group of refugees and asylum seekers.
In March last year a number of "recognised refugees" from Somalia, Ethiopia, Zimbabwe and the Democratic Republic of Congo living in the Worcester township Zwelethemba were victims of looting and attacks by local residents.
Though their homes and business had been looted and they were the targets of other criminal acts, they say the police failed to protect them.
When the case was presented before the Equality Court at the Cape High Court on 17 April, the team from the UCT Law Clinic argued that the omissions of the police (cited as respondents) constitute unfair discrimination.
"In particular, it is our contention that the police should or could have cordoned off the area of looting, used minimum force reasonable in the circumstances, effected arrests where necessary or fired warning shots, in the very least. Police should have conducted an investigation after the incident" said Refugee Rights Project head, Fatima Khan.
They requested an unconditional apology and public admission that "they committed acts of unfair discrimination", amounts in damages, and that the SAPS and the United Nations High Commissioner for Refugees implement police training programmes on sensitivity towards refugees and on refugee rights.
Equality Courts are designed to deal with matters covered by the Promotion of Equality and Prevention of Unfair Discrimination Act 4 of 2000, also known as the Equality Act.
Found in Atlantis, George, Kuilsriver and Worcester in the Western Cape, Equality Courts were introduced to facilitate fair and speedy hearings so that that those who have been the targets of discrimination can access the courts without the formalities and delays attached to the High Court.
"This is a strategically important case, recognising that refugees and asylum seekers have a right to safety and security and that the SAPS have a duty to protect all people in South Africa," said Khan.
---
This work is licensed under a Creative Commons Attribution-NoDerivatives 4.0 International License.
Please view the republishing articles page for more information.
---