Rugby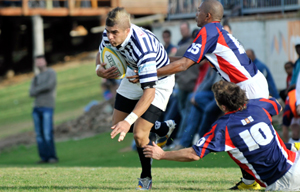 The FNB UCT First XV got their Western Province Super League season off on just the right note on Saturday, 18 April - a 29-8 drubbing of Durbanville-Bellville, away in Durbanville.
The match was marked by solid tackling from UCT, a couple of close referee's calls that could've earned UCT a few more tries, and a stunning solo try by substitute Therlow Petersen. Petersen, top try-scorer in the recent Varsity Cup, touched down twice, with Marvin Christians and Timothy Whitehead chalking up a try apiece as well. The game also signalled the return of a number of UCT 'old boys', including crowd favourites Vakai 'Fish' Hove, Craig Kleu and Herbert Mayosi. UCT next plays Victorians on the evening of Wednesday, 22 April.
Lifesaving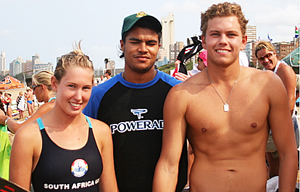 Three UCT students represented South Africa in the gruelling Four Nations Surf Lifesaving Championship in Durban recently. Kerri Anderson and Ryle De Morny, both third-year business science students, as well as Lyle Maasdorp, a third-year BCom student, helped South Africa to second spot - Australia won - getting the better of the UK and the US.
Anderson and Maasdorp were selected for the South African under-23 team, with Anderson as captain of the girls' team. They are both craft /sea specialists. De Morny, a beach specialist, won many of his events on the first day. Unfortunately, he pulled his hamstring during the beach sprints on the second day, and had to withdraw from the competition.