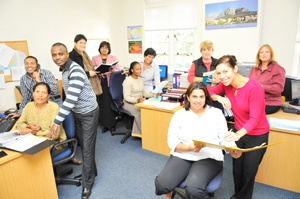 Often called the window of UCT because the office is the first point of contact for prospective employees, the SRO team is managed by Yvonne Macdonald and staffed by recruitment advisors Mary Daniels, Marilyn Hallett, Nalinee Maharaj, and Sandy Williamson, who service selection committees and advise on recruitment policies, procedures, and best practice.
They are assisted by administrators Tracy Moore, Roslyn Daniels, Fiki Nhliziyo, as well as Edith Graham and Themba Mabambi (both temps). In addition, Rodney Martin works as a recruitment advertising co-ordinator, placing all UCT's recruitment adverts in the media and on websites, ensuring that UCT's house style is displayed appropriately.
What does the office do on a day-to-day basis?
Days vary. Sometimes there are wall-to-wall meetings for days in a row, resulting in many reports and recommendations for appointments. The Advisors also co-ordinate the travel arrangements for candidates when coming to UCT for interviews. Administrators process job applications (the record is 500 applications for one post) and are responsible for ensuring that all meeting documentation is sent out timeously.
They also schedule the selection committee meetings, which is quite a task when trying to get busy academics and PASS committee members together at the same time on the same day!
What are the challenges facing the office?
Selection committee meetings start as early as 07h00 and can finish late in the evening. Volumes are ever-increasing, and ensuring that the recruitment process is smooth can be difficult.
What are the best and worse moments of the job?
"It is satisfying to have been part of a process where an excellent appointment has been made and the candidate accepts the offer gladly," explains Macdonald.
The worst moments are advising candidates that their applications have been unsuccessful. For Martin, the worst aspect of his job is having to chase up people for final approval of adverts in order to meet the media deadlines.
What is a weirdest thing they have encountered?
The staff sometimes get requests from job applicants to join them on dating networks.
---
This work is licensed under a Creative Commons Attribution-NoDerivatives 4.0 International License.
Please view the republishing articles page for more information.
---