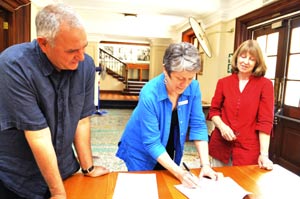 Binding: Jack Lewis, CHMT director, Joan Rapp, executive director of UCT Libraries, and Lesley Hart, manager of Libraries Manuscripts and Archives during the signing of a memorandum of understanding between UCT and CHTM.
UCT Libraries has joined forces with the Community Health Media Trust (CHMT) to house the archives of video tapes and transcripts documenting the history of HIV/AIDS in South Africa.
The archive, touted to be the first of its kind in the Southern African Development Community (SADC) states, contains policy, stories, and people's personal testimonies on AIDS during its manifestation.
Jack Lewis, CHMT director, said the resource would become increasingly valuable as society moves away from "the heat of the epidemic".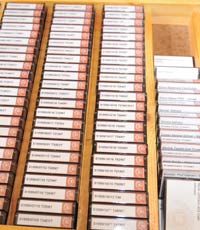 "By 2030, people caught in the heat of the epidemic (in the 1990s and 2000s) will have died, and this information will then be (even more) useful to students, researchers and academics," he explained.
On 25 March, the two parties signed a memorandum of understanding, allowing UCT to house the archives as part of its broader commitment to developing archival resources on HIV/AIDS.
Most of the footage was shot during the production of Siyayinqoba Beat It, a television show for people living with HIV/AIDS, their support networks, and health workers. The value of the archive has been recognised by UNAIDS, who provided the funds for CHMT to establish an online database. Three hundred hours of footage were created in 2008, and the project is set to continue for four years.
Further information about CHMT can be found at on its website.
---
This work is licensed under a Creative Commons Attribution-NoDerivatives 4.0 International License.
Please view the republishing articles page for more information.
---