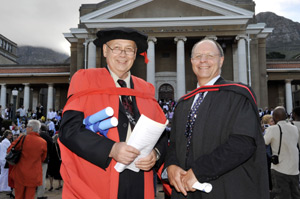 Swap: Prof Dimitri Novitsky and Assoc Prof Johan Brink.
Some 20 years ago, from 1983 to 1987, Johan Brink was a student in the medical class of Professor Dimitri Novitsky.
Until he left South Africa in 1987, Novitsky, a protégé of one Professor Chris Barnard, did groundbreaking research on the hormonal and other physiological effects of brain death on potential donor-organ function. He came up with novel concepts of how to manage and treat donors for optimal donor-organ usage - not only for the heart, but also for the kidney and liver.
He left in 1987 to help Barnard set up a top heart-transplant unit in Oklahoma City in the US.
But recently, Brink and Novitsky met up again when the latter wanted to settle some unfinished business. About four or five years ago, Novitsky, Professor of Cardiothoracic Surgery at the University of South Florida, asked Brink to supervise his research towards a doctoral degree at UCT. Brink, now associate professor in UCT's Chris Barnard Division of Cardiothoracic Surgery, is also surgeon-in-charge of the heart transplant unit at Groote Schuur Hospital these days.
Novitsky had handed in an MD thesis before he moved to the US, explains Brink, but never got to the revisions the examiners had proposed.
Last week, Brink was on hand to watch Novitsky graduate with a doctorate in health sciences. (Novitsky was meant to graduate in June, but couldn't make the ceremony.)
It's a rarity, noted Brink, for a student to help a mentor finish a degree.
---
This work is licensed under a Creative Commons Attribution-NoDerivatives 4.0 International License.
Please view the republishing articles page for more information.
---