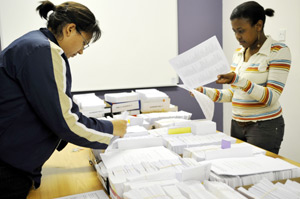 Busy bees: Students Greta Clarence and Kefilwe Pitsie, seen here sorting transcripts, are among students who are helping the Student Records Department to ensure that graduation runs smoothly.
As Melanie Swinerd spoke, her left hand slowly massaged her neck while her right hand moved the mouse, her eyes glued to her computer screen.
Although she had agreed to an interview, she has little time to chat. She had been at work since 5h40 in the morning, and would stay till "late".
This is testimony to the frantic pace at the Student Records Department in the Office of the Registrar, in the run-up to graduation.
A week before the start of graduation was also the beginning of "two weeks of 12-hour days" in which some employees report for duty as early as four in the morning and others leave at ten at night; and work over the weekend of 6 to7 December.
This requires "superhuman efforts", added Dr Karen van Heerden, deputy registrar for academic administration. The office, which is responsible for all student records, has three officials preparing programmes and student lists, three producing degree certificates, and six students assisting them.
In the process, the information has to be checked and double-checked. Some staff deal with logistics and must ensure that the venue is ready, gowns are ready for issuing, and that the necessary health and safety measures are in place.
A major challenge is that students change their minds all the time until the very last moments.
"Some would first say they would graduate in absentia. Then say they are coming and need two tickets. And then, no, they need four. Or sometimes they want their names on the certificates changed. We have to update our information until the last 10 minutes," Swinerd said.
"We feel compelled to go the extra mile to ensure that things run smoothly on the graduation day."
The job is stressful, but Swinerd says they do their best under the circumstances because they appreciate the hard work put in by students over their studies.
They get their reward when they see students graduating with big smiles.
---
This work is licensed under a Creative Commons Attribution-NoDerivatives 4.0 International License.
Please view the republishing articles page for more information.
---