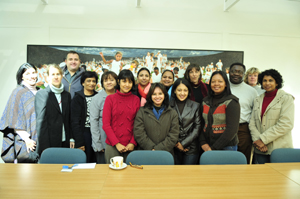 New heights: Members of the team include Candice van Reenen, Julie Nadler-Visser, Roger Wallace , Patricia Jacob, Ethel Tesnar, Haajirah Esau, Roshan Sonday, Charmaine McBride, Estrelita Thomas, Jacqueline Sylvester, Dr Marilet Sienaert, Desmarie Dreyer, Dr Charles Masango, Judith Rix and Christina Pather.
The Research Office, which recently moved to 2 Rhodes Avenue in Mowbray, is staffed by Dr Marilet Sienaert (director), assisted by Jayne Alexander. The office is made up of three clusters. The first is research development, managed by Dr Lyn Holness and her team of Dr Charles Masango, Dr Dianne Bond and Roshan Sonday.
The second subsection is funding and committees, staffed by Haajirah Esau (manager), Charmaine McBride, Colleen Windvogel and Estrelita Thomas.
Lastly, the office has a research information and planning side, staffed by Christina Pather (manager), Patricia Jacob, Timothy Layman and Jacqueline Sylvester. They work closely with Wilna Venter, who deals with strategic projects, and Morag Kenmuir (office and finance manager).
What does the office do on daily basis?
The office is responsible for grants funding, research quality assurance and the management of an information system that serves multiple research-specific purposes. The office supports research planning and policy implementation, and manages the government's requirements for research subsidies.
A core component of their business is to contribute to academic staff development through interventions that enhance research capacity. These initiatives are largely donor-driven and draw on the expertise of retired or senior staff from the faculties.
The office is responsible for a range of annual reports, international research exchanges and a series of research benchmarking activities. It further drives and supports the research activities that ensue from strategic partnerships and formal agreements with research councils, research institutions and government departments.
What qualifications one needs to do the job?
Most of the staff members have postgraduate degrees, and although this is not a requirement for all positions, it certainly helps in understanding the research environment and to interact meaningfully with academic staff.
High-level computer literacy is a prerequisite for the job, as well as excellent writing and interpersonal skills.
What are the challenges facing the office?
The office has recently relocated to a new building. Faced with parking constraints and not being on a Jammie Shuttle route, fewer academics pop in to consult or to have their research queries resolved.
The office considers the interface with faculties important to its business, and is working with Properties and Services to improve this situation. Their job is also to implement the vision of the Executive and the University Research Committee.
"We therefore anticipate a possible change of direction or emphasis (read systems and processes!) when the new DVC for research comes on board!" said Sienaert. Improvement of their staff equity profile is also an ongoing challenge.
What are the highs and the lows of your work?
The highs come from positive feedback from committees or individual academics, who write to comment on their services and reports. The worst low is having a despondent or angry academic on the line about something that is beyond their control, such as the Department of Education-accredited journals or funding outcomes.
For more information, visit their new website.
---
This work is licensed under a Creative Commons Attribution-NoDerivatives 4.0 International License.
Please view the republishing articles page for more information.
---