New blood: Hylton Ackerman (right), here with Martin Walters, recently selected for the WP amateur side, and club chairperson Travis Townsend, wants to make UCT a force again in local club cricket.
The first word Cricket Club administrator Kobus Olivier uses when you mention the first team's new coach is "brilliant".
"He's absolutely brilliant," Olivier stresses.
He's talking about Hylton Ackerman senior, South African cricket legend and father to HD Ackerman, who takes over the coaching reins for the upcoming season. Poor health means Ackerman can only spend about two days a week with the side, but he's more than happy to be working with a squad of up-and-coming talent again.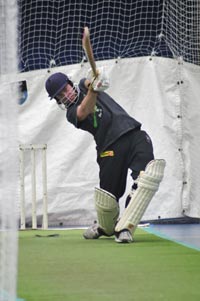 Ackerman also has a game plan in mind. For one thing, he's already looking ahead over the first team's upcoming season, always tricky as players come and go - either caught up in exams, leaving for home after classes come to an end, or getting provincial call-ups. (Two of the side's best players have already been drafted into the first-class Western Province amateur side, for which Olivier is one of the selectors.)
The team's waning fortunes in the club competitions are unpardonable, believes Ackerman.
"Varsity should win the club competition," he says. "Not only do they get good school players, but they also field so well and they're so vibrant. They have this fantastic talent."
Ackerman's waiting for the first game of the season, against newly-promoted Northern Goodwood, to get a feel for the team. His players have done most of their nets indoors, training schedules stymied by the long rains.
First-team captain Dean Forword agrees with Ackerman that the side should be doing better than it's done over the past two seasons, when they failed to win any silverware.
"We've always underperformed given the teams we have and with the talent that comes into varsity cricket."
But a "super keen" Ackerman may be just what the team needs to get them back on track.
"He's not a disciplinarian or anything like that, but he challenges us," says Forword.
---
This work is licensed under a Creative Commons Attribution-NoDerivatives 4.0 International License.
Please view the republishing articles page for more information.
---