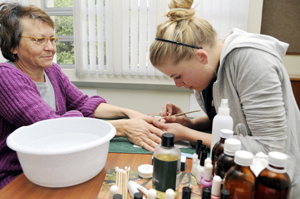 Handy: Staffer Rosalie Richfield enjoys a manicure from Claire Parthesius of the Beauty Therapy Institute.
The three-day Health and Wellness Fair from 2-4 September was a great success, building on the Organisational Health and Wellness team's concept of empowering staff to look after their health.
The Discovery Health Corporate Review of UCT for 2007 and 2008 shows that UCT staff have significantly higher levels of chronic diseases than the industry average.
These diseases include hypertension (high blood pressure), hyperlipidaemia (cholesterol), diabetes mellitus (Type2), asthma, and ischaemic heart disease.
There's a correlation between the wellness of staff and productivity. Besides the Health and Wellness Fair, the Organisational Health and Wellness team organised screening days for the common "lifestyle" diseases. These also included tests for body mass index and HIV/AIDS.
"We are hoping to make provision for the early detection, prevention and management of common lifestyle diseases," said Margie Tainton, organisational health and retirement manager.
The fair gave staff an opportunity to obtain information on practical ways of helping themselves - and easy ways of making lifestyle changes. Advice was available on a host of topics and from a spread of service providers.
You could have your eyes tested, get tips from a dietician or nutritionist, have a massage, get drug counselling, catch up on the latest on fitness and sample some skin care products. There were even financial advisers on hand.
---
This work is licensed under a Creative Commons Attribution-NoDerivatives 4.0 International License.
Please view the republishing articles page for more information.
---