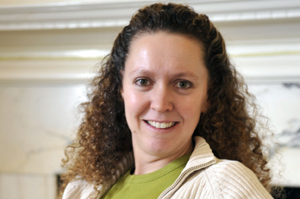 Getting organised: Staffer Joanne Uphill graduates with a master's degree in organisational psychology this week.
Joanne Uphill, manager of the UCT Staff Learning Centre, will feature among the seven graduates from the master's programme in organisational psychology, offered by the School of Management Studies.
It's easy enough to see why Uphill, given her job, would be drawn to the programme. The flagship in the School's organisational psychology suite, the master's degree views "the human resource practitioner as a strategic partner".
Uphill, more specifically, wanted to back up her years' of experience - and an honours degree in human resource development - with some more formal learning.
"I wanted a theoretical framework for the work that I already do," she says. "And what the programme showed me was what other opportunities and possibilities there are, what other models there are to work with."
In her thesis, Uphill looked at instruments to measure and assess people's values, be they traditional, moral, or even around hedonism and achievement.
The year-long master's took some organisational skills for Uphill herself, then expecting her second child. Katherine was born just two months after Uphill completed the programme, in fact.
"It meant having a good support system, both at work and home," says Uphill about 2007. "Also, you have to be motivated, and I really wanted to do the programme."
---
This work is licensed under a Creative Commons Attribution-NoDerivatives 4.0 International License.
Please view the republishing articles page for more information.
---