Prof Njabulo S Ndebele and Dr Max Price met with alumni and friends at the Harvard Club of New York City.
Vice-Chancellor and Principal, Professor Njabulo S Ndebele, and the Vice-Chancellor-designate, Dr Max Price, recently returned from Canada and the United States where they met with key stakeholders, donors and alumni.
The programme is part of an intensive six-month leadership transition plan as Prof Ndebele prepares to leave UCT at the end of June.
Prof Ndebele and Dr Price were accompanied by the executive director of the Development and Alumni Department, Dr Jim McNamara.
"The aim of the trip was to meet the presidents of the major foundations that are strong supporters of UCT, for Prof Ndebele to say farewell (in his current role), and to 'hand over' the key foundation-UCT relationship to Max Price and introduce him to each president and their senior staff," McNamara said.
"As always, we thanked the presidents for their support, and discussed broad themes around strategic directions for each foundation and for UCT."
The group also met with the trustee boards of UCT's legally-independent supporting organisations in New York and Toronto, the UCT Fund Inc (USA) and the UCT Foundation Canada.
Discussions focused on how the boards could best serve UCT's interests in future, in relation to building supportive alumni communities in major cities in each country, and in fundraising for UCT's strategic projects and financial aid.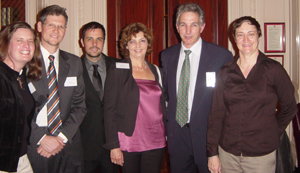 Dr Max Price, second from right, with alumni and friends Fiona Jack, Oliver Link, Guto Barra, Maxine Lubner and Janine le Sueur at the Harvard Club.
On the social calendar there were several alumni receptions in US cities, an opportunity for Prof Ndebele to say farewell and to introduce Dr Price.
"These were especially well-attended, reflecting good work on the part of Tina Barsby of the UCT Fund Inc," McNamara said.
"The level of interest in and enthusiasm for UCT on the part of alumni was quite high, and those alumni communities are building nicely."
Prof Ndebele also travelled to the University of Michigan where an honorary degree of Doctor of Laws was bestowed on him on 26 April.
At Pitzer College in California, on 29 April, he delivered a lecture on transformation of the university in post-apartheid South Africa.
The visits are already bearing fruit. From Michael D Ezekowitz, Vice-President and Professor at the Lankenau Institute for Medical Research in Philadelphia, came this message to Dr Price: "Your visit was an unqualified success! We are already discussing potential collaborations.... events such as these bring awareness of UCT and SA and also bring graduates together. Graduates often live in close geographic proximity but seldom interact."
Next on their schedule is a trip to Australia and New Zealand, Dr Price will be accompanied on this trip by Deputy Vice-Chancellor Professor Thandabantu Nhlapo and Lungile Jacobs from the Development and Alumni Department.
Dr Price will attend alumni receptions in Perth, Melbourne, Sydney, and Auckland.
---
This work is licensed under a Creative Commons Attribution-NoDerivatives 4.0 International License.
Please view the republishing articles page for more information.
---