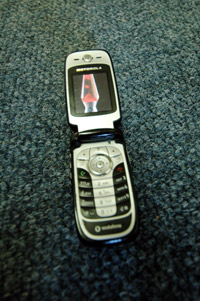 Campus Protection Services (CPS) has urged students to be on the lookout for cellphone thieves operating around campus. Three cases of cellphone theft were reported to CPS and the South African Police Service (SAPS) during March. The incidents took place in Main Road, Mowbray, and one in the Smuts Hall Residence parking area on upper campus.
The modus operandi of the suspect is that he approaches a student and tells him that his cellphone battery is flat, and that he urgently needs to contact a friend to come and help him. He would then ask the unsuspecting student to send a "Please Call Me" to a cellphone number that the suspect would provide to the student.
When the person calls back, the student then hands his cellphone to the suspect to speak to his friend, at which time the suspect hands a packet over to the student to hold as surety.
The suspect then walks off with the student's cellphone.
Inside the packet is a small plastic bag containing a white powder that looks like flour.
On March 20, however, one student alerted a CPS officer and the suspect was arrested in Residence Road on upper campus as he was fleeing with the student's cellphone.
The student's Nokia cellphone, valued at R2 000, was recovered and returned to the student. A criminal case of attempted theft was opened and the suspect was arrested by the Rondebosch SAPS.
Another student whose cellphone was stolen in the Main Road, Mowbray, on 3 March has since been asked to identify the suspect. This student positively identified the suspect as the person that stole his cellphone. A criminal case of theft was opened at the Mowbray SAPS.
Students are, however, urged to remain cautious as others may try the same scam.
Contact CPS at ext 2222 or 2223 to report any such incidents.
---
This work is licensed under a Creative Commons Attribution-NoDerivatives 4.0 International License.
Please view the republishing articles page for more information.
---