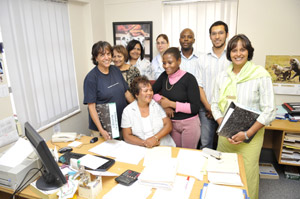 Fun(ding) folks: From left, back, Margie Jacobs, Ethne Diedricks, Larraine Valentine, Rehana Effendi, Khaya Jack, Zahir Baker and Tasneem Salasa. In front are (seated) Adelaide Rooks and Patricia Jakavula.
Who are the team members?
Director: Sindy Ntshongwana
Manager: Tasneem Salasa
Senior co-ordinator student funding operations: Sibusiso Ncengwa
Student assessments co-ordinator: Margie Jacobs
Student bursaries and loans co-ordinator: Khaya Jack
Bursaries and loans assistants: Rehana Effendi, Cindy de Oliveira
Student funding assistants: Adelaide Rooks, Ethne Diedricks and Zahir Baker
Financial aid enquiries assistant: Patricia Jakavula
Senior secretary: Lorraine Valentine.
What are the team's responsibilities?
To provide financial assistance to eligible undergraduate students.
What kind of work would you deal with on a day-to-day basis?
The office does financial assessments of applications, selects and nominates students for donors, awards bursaries and scholarships, processes student loans, makes payments to students for living allowances, advises students on their financial aid, refers students for counselling where needed, and provides information on financial aid to students, parents, donors and faculties. They also do parent information sessions at high schools, and participate in parent orientation and UCT Open Days.
How often do you deal directly with students?
We see students on a daily basis and often parents, too. For convenience, the office is also open during the meridian.
What is the most difficult part of the section's work?
Not being able to cover all the financial needs of the students. Another difficulty is that sometimes staff members are exposed to very traumatic information that they have to deal with on a personal level.
What are the lows of the section's jobs?
Informing a student and/or a parent that they don't meet the eligibility criteria and then having to deal with the fall-out that inevitably results from that. We are dealing on a daily basis with decisions that affect students' lives materially, and this is not easy when that decision is not positive.
What are the highs?
Seeing the students graduate, and the number of graduates who still remain in contact with the office and share that, through financial aid assistance, they were able to achieve their academic and career goals.
---
This work is licensed under a Creative Commons Attribution-NoDerivatives 4.0 International License.
Please view the republishing articles page for more information.
---