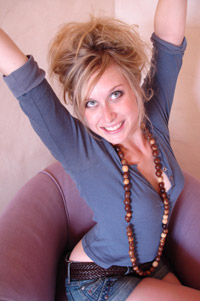 Hurrah: UCT drama graduate Emily Child is the winner of the 2007 Fleur du Cap Award for the most promising student.
At a ceremony at the Baxter on 9 March, drama graduate Emily Child, 22, was announced the winner of the 2007 Fleur du Cap Award for the most promising student.
UCT was well represented among the winners, with several alumni walking away with awards. These included Chuma Sopotela for best performance by an actress; Alan Committie for best performance by an actor (Committie was also the MC for the evening); Claire Berlein for best supporting actress; Lara Foot Newton for best new indigenous production; Claire Watling for best performance in a revue or cabaret (shared with Godfrey Johnston); and Luke Ellenbogen for best lighting design.
Monday Paper spoke to Child after the ceremony.
When and how did you acting bug bite you?
Well, to be honest, I think it was the boy bug that got hold of me first. I was super-shy at school and it was the realisation that the school play equals meeting so many gorgeous boys. At around 12 I decided to brave the stage and within about 10 minutes I was swept off my feet by a love that will never call you names and break your heart!
Is the Fleur du Cap your first acting award?
The Fleur du Cap is my first professional acting award. I won a couple at school and university but they never required an acceptance speech! This feels pretty huge. I mean VERY huge. It's such an honour, and a real confidence booster...
Did the year feel like an award-winning one while you were living it? What, do you think, made it special?
It was one of the busiest years I have ever had. As final-year performers we were in production from January to December. It's special to start to feel three years of study, work its way into your bones and start to show in your performance.
Any favourite performances/roles - your own - from 2007?
Emilia in Othello will always be particularly special. Shakespeare toys with your emotions in many ways in that it really stretches your capacity to feel. I broke some huge barriers in my work during that process. I love playing a "baddie", and boy, is she bad...
What acting/theatre projects are you involved with at the moment, and what do you have lined up for the year?
I am currently working on a show with Luke Ellenbogen called Gone Dottie. It's a comedy based on the writings of American writer, Dorothy Parker. It's a one-woman show so it needs my full attention.
---
This work is licensed under a Creative Commons Attribution-NoDerivatives 4.0 International License.
Please view the republishing articles page for more information.
---