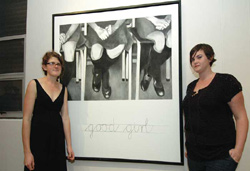 Finding UCT: Clare Butcher and Linda Stupart, curators of the Finding UCT exhibition now on in the Centre for African Studies Gallery.
Twenty-one lesser known pieces of art from the UCT Permanent Collection - including one thought for years to be missing - are now on show in the Centre for African Studies Gallery.
Finding UCT: Narratives, New and Old, in the UCT Permanent Collection, opened on 19 September and highlights a different aspect of the UCT collection. On view are paintings, sculptures and photographs, some contemporary in taste, others more traditional, including a reproduction of a 19th century painting by Joshua Reynolds.
A few pieces - perhaps too edgy for some and still looking for a home - were taken out of mothballs specifically for the exhibition, explains Clare Butcher, who oversaw Finding UCT alongside her co-curator at the gallery, Linda Stupart.
The show presents a series of unexpected, sometimes even whimsical, moments from the UCT collection, say the curators.
According to Professor Pippa Skotnes, director of the Michaelis School of Fine Art, the curators had been "witty and thoughtful" in their selection, and have made the paintings and objects speak about issues "we ought to care about".
"They speak about how UCT represents itself to itself, how it values its collections, and how artwork marks a particular time in history and sets that time up against our own, among others," said Skotnes.
Finding UCT runs until 10 October.
---
This work is licensed under a Creative Commons Attribution-NoDerivatives 4.0 International License.
Please view the republishing articles page for more information.
---