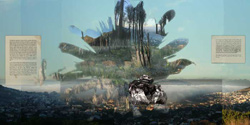 Romance and melancholy: Carine Zaayman's solo exhibition, The Secret Adventures of Lady Anne Barnard, is at the Irma Stern Museum until 1 September.
A UCT lecturer pays homage to Lady Anne Barnard with some striking images.
A solo exhibition on Lady Anne Barnard by Michaelis School of Fine Art lecturer Carine Zaayman opened at the Irma Stern Museum on 7 August.
Titled The Secret Adventures of Lady Anne Barnard, it is based on her stay at the Cape of Good Hope as the wife of the first British colonial secretary, Andrew Barnard, from 1797 to 1802.
The exhibition includes excerpts from her letters and journals, chosen for their particularly intelligent and insightful observations of life at the Cape in the late eighteenth century. As Barnard was the first woman in recorded history to climb Table Mountain, the exhibition also includes a video installation dealing with her adventure.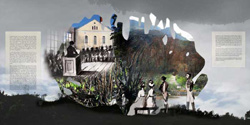 "She expressed herself through writing and drawing," explained Zaayman, "but what also interested me was what she didn't write down. "At one point she wrote that she's glad she got married because now she would no longer be hurt by people who didn't realise they were hurting her. This indicates that she must have suffered through some form of emotional trauma. So the exhibition has a sense of melancholy, but there are also light-hearted aspects to it. There's definitely a romantic aspect - not with people, but with the landscape, text and letters."
The Secret Adventures of Lady Anne Barnard runs until 1 September.
---
This work is licensed under a Creative Commons Attribution-NoDerivatives 4.0 International License.
Please view the republishing articles page for more information.
---