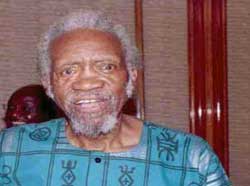 Professor Archie Mafeje completed his undergraduate studies and began his career as a scholar at UCT.
Forced into exile, he moved to the UK, where he obtained a PhD in anthropology and rural sociology from Cambridge University in 1966.
In 1973, at the age of 34, he was appointed professor of anthropology and sociology of development at the Institute of Social Studies in The Hague by an Act of Parliament and with the approval of all the Dutch universities, becoming the first African scholar to be so distinguished in The Netherlands. With that came the honour of being named a Queen Juliana Professor and one of her Lords. His name appears in the prestigious blue pages of the Dutch National Directorate.
Archie Mafeje's professional career spanned four decades and three continents.
From 1969 to 1971 he was head of the Sociology Department at the University of Dar Es Salaam, Tanzania, before moving to The Hague as a visiting professor of social anthropology of development and chairperson of the Rural Development, Urban Development and Labour Studies Programme at the Institute of Social Studies from 1972 to 1975.
It was here that he met his wife and lifelong companion, the Egyptian scholar and activist Dr Shahida El Baz.
In 1979, he joined the American University in Cairo as professor of sociology. Thereafter, he took up the post of professor of sociology and anthropology and director of the Multidisciplinary Research Centre at the University of Namibia from 1992 to 1994. Mafeje was also a senior fellow and visiting or guest professor at several other universities and research institutions in Africa, Europe and North America.
He is the author of many books, monographs and journal articles. His critique of the concept of tribalism and his works on anthropology are widely cited as key reference materials. He also did pathbreaking work on the land and agrarian question in Africa.
Mafeje returned to South Africa several years after the end of apartheid where he was appointed a research fellow by the National Research Foundation (NRF) working at the African Renaissance Centre at UNISA.
In 2001, Mafeje became a member of the scientific committee of the Council for the Development of Social Science Research in Africa (CODESRIA) and in 2003 was awarded honorary life membership of this council. In 2005, he was appointed a CODESRIA Distinguished Fellow in conjunction with the Africa Institute of South Africa in Pretoria.
Mafeje is survived by his wife and their daughter Danna.
This biography is based on the one provided by CODESRIA. Monday Paper wishes to thank them for their assistance.
---
This work is licensed under a Creative Commons Attribution-NoDerivatives 4.0 International License.
Please view the republishing articles page for more information.
---