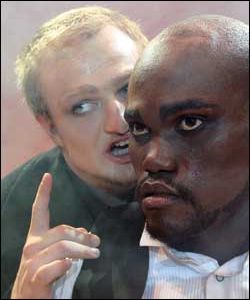 Rumour-mongering: Albert Pretorius has a word in the ear of Pakamisa Zwedala in Othello.
The UCT Department of Drama will stage Othello at the Little Theatre from 12 to 31 March.
Domestic in scale but seething with passion, Othello is one of William Shakespeare's most intimate and tightly-constructed works. There are no kings in this play, which makes it unique among his tragedies.
While commonly considered one of his great and finest creations, Othello is basically a thriller containing sexual suspicion, betrayal, revenge and murder. The title role of the Moor who "loved not wisely but too well" and the most famous of all villains, Iago, have attracted actors and audiences alike.
It has been described as Shakespeare's most accessible of plays, dealing with the most raw of all emotions, jealousy. Othello is directed by Geoffrey Hyland. Hyland's productions of Shakespeare have been enthusiastically received, both at The Little Theatre and Maynardville, where Macbeth and Twelfth Night received Fleur Du Cap nominations for Best Production. Illka Louw designs the costumes and Daniel Galloway did the lighting.
This year's production of Othello forms part of the drama department's ongoing commitment to staging accessible and vital works for Grade 12 learners. For bookings and more information, call 021 480 7129 or send an email.
---
This work is licensed under a Creative Commons Attribution-NoDerivatives 4.0 International License.
Please view the republishing articles page for more information.
---