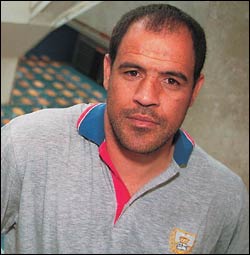 Talent scout: UCT's Roger Adams and some partners are hoping to nurture young athletic talents.
Young talented athletes, especially those from disadvantaged backgrounds, have a hard time wringing a living out of their sport.
So desperate may they be for the skimpy purses on offer at some races that many tend to over-race, signing up for any event - regardless of how numerous - where prize-money is on offer. This predilection, said Roger Adams, an administrator at UCT Sport and Recreation, then cuts short what otherwise may have blossomed into long, successful careers.
Which is why Adams and attorney Kevin Kiewitz, backed by seasoned Bellville-South rugby administrator Desmond Naud? and national athlete Melody Marcus, have joined up to act as managers/agents for a growing group of young athletes and rugby players. The team has started a fund - known as the Cape Town Sports Trust - through which they support their proteg?s.
The group of sportspeople under their care includes UCT graduate Sihle Mapukata, who won this year's Peninsula Marathon; Zimbabwean Jane Makombe, 21-km Pride of Tokai winner in September; Makombe's compatriot Elijah Mutandiro, who successfully defended his Soweto Marathon (the biggest standard marathon in the country) title in record-breaking time only a few weeks back; and Johannes Kekana, who took top honours in the All Africa Games marathon in October.
Adams and his partners lend a sweep of services to the athletes, sourcing funding and sponsorships for everything from nutritional supplements to kits. They also, where necessary, scare up bursaries and accommodation, and negotiate contracts on behalf of their wards (a fund-raising golf day is planned for February when they hope to launch an envisaged adopt-an-athlete concept).
More importantly, the group is giving vital career and racing advice, making sure the athletes don't run themselves into the ground.
"Athletes are in desperate need of this kind of service," noted Adams. "By and large, they are insufficiently mentored and cared for, so proper guidance is essential.
"Many athletes out there in the streets are talented enough to one day compete on the international arena and so earn a decent living. So really, this service is located at the gap between promising talent and international achievement."
---
This work is licensed under a Creative Commons Attribution-NoDerivatives 4.0 International License.
Please view the republishing articles page for more information.
---