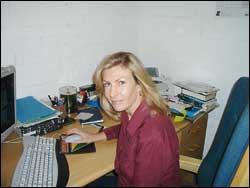 Make your mark: Sarah Riordan hopes her survey will provide useful data for her PhD on mid-career development of South African women in academia.
The low number of academic women in senior positions in higher education institutions is recognised as a problem worldwide.
UCT researcher Sarah Riordan (linked to the HERS-SA network) is pursuing some hard quantitative data towards her PhD on the topic, Mid-career Development of Academic Women in South Africa. To this end, she is asking women in academia to help out by completing an anonymous, electronic questionnaire.
"Qualitative research in this field is well documented, but quantitative research is sparse," Riordan commented.
In the next few weeks, women academics in nine South African universities will receive an email with a link to an electronic questionnaire that they will be invited to complete.
"I realise that 35 or 40 minutes of time is valuable, but I really believe that this input from South African women will contribute to understanding and addressing this global problem in the academic environment, and I urge them to contribute," says Riordan.
Riordan is studying career progression among academic women within the framework of organisational psychology career constructs, and hopes her data will underpin some strategies to retain academic women and that the results will help shape university policies and procedures.
"Few policies exist that directly address the career development of academic women," she says. "This study will make recommendations in this regard that will be shared with all the participating universities."
She said that the past 20 years had seen a growing understanding of the differences between men's and women's career patterns.
"Increasingly, women in the mid-career phase report a sense of renewed energy towards their careers as direct child-rearing responsibilities diminish."
But while consensus existed that women should hold more senior positions to harness their skills, Riordan hopes her research will establish whether women themselves seek higher office and what universities can do to retain this talented human resource.
(Monday Paper thanks Alisson Lynch and Dr Dionne Shepherd of the Department of Molecular and Cellular Biology, as well as Chwayita Nqiwa of the University of the Western Cape, for helping out with the pictures.)
---
This work is licensed under a Creative Commons Attribution-NoDerivatives 4.0 International License.
Please view the republishing articles page for more information.
---