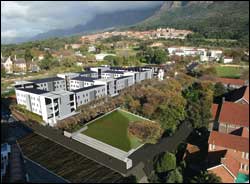 An artist's impression of the new Graça Machel Women's Residence on the old Protem site.
The new R87-million, 382-bed women's residence that will open at the beginning of the 2007 academic year will be accompanied by a redevelopment of the adjacent area, with landscaping, and will include a new gymnasium with cross-training facilities next to the existing swimming pool.
The residence has been named after Chancellor Graça Machel who will officially open the residence in April next year.
On track in both the budget and schedule, the residence will even the balance of accommodation offered to students, half of whom- that is approximately 10 000 students - live outside Cape Town, executive director (Properties and Services) John Critien said.
UCT presently offers 5 330 beds. Fifty three percent of these are in men's residences. The new facility will bring the figure to just over 54% in favour of women students.
"We'd like to give more students the full residence experience," Critien said.
A user group headed by Ian Mackintosh (Director, Housing and Residence Life) has vetted the residence specifications and designs. The group is made up of wardens, residence committees, women students and the Disability Unit. Disabled students will be accommodated in designated rooms on the ground floor; each room will be markedly bigger than standard units.
All rooms will have hand basins, additions Critien says will be paid for by the soccer World Cup in 2010 when the university expects to let out the majority of residence accommodation to visiting fans and tourists.
The building, designed on the old Protem site, offers a maximum of three storeys. The designers have created three internal courtyards where students can mingle and relax.
Rooms have been designed in clusters of eight, creating communities within communities, each with a common room.
Golf carts will bring food into the residence, to be heated in a central kitchen.
Critien said the committee was considering leasing space to three vendors, such as cell phone and photocopying shops.
Though development will mean a new gym, the weight lifting clubs will remain in the Sports Centre.
---
This work is licensed under a Creative Commons Attribution-NoDerivatives 4.0 International License.
Please view the republishing articles page for more information.
---