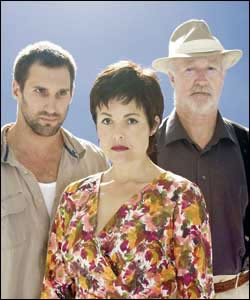 Jan Ellis, Anna-Mart van der Merwe and Marius Weyers heat up the stage
Following its success at the Klein Karoo National Arts Festival where it was sold out and went on to win the 2006 KANNA Award for Best Production, Begeerte is now hotting up the stage at the Baxter Theatre Centre until May 6.
Translated into Afrikaans by Nerina Ferreira and based on multiple award-winning playwright Eugene O' Neill's classic Desire under the Elms, the play is for adults only and carries an 18-yr age restriction.
Set on a farm, the story is filled with family tension, jealousy, greed, lust, betrayal and passion containing all the intensity of a fever dream.
Director Janice Honeyman has assembled a formidable cast starring South African theatre blue-bloods Marius Weyers, Anna-Mart van der Merwe and Jan Ellis.
When a father brings home his young bride, he little foresees the turmoil that her arrival will bring his family. The youngest son at first loathes the newcomer, but when hatred gives way to lust, the resulting conflict threatens to rock the peaceful farm to its core.
Honeyman says about the story: "Begeerte is a play about family resentment, mistrust and desperation. It is about fatal conflict and fatal attraction with characters clashing like hard rocks as they struggle with personal alienation from each other, all with a seething, underlying sexual tension.
"It's a modern classic, brilliantly written and excellently translated. Its rich structure has a depth that suits the three actors perfectly. It is a beautifully layered story that deals with human flaws and confronts the inevitability of their weaknesses and people's need to possess."
"This is a universal condition which can be urban or rural in its setting. Fundamentally, it is not about the place, but about human nature, as we confront our own insecurities out of which conflict, desire, possession, lust and greed are born."
Honeyman has adapted Ferreira's translation to make it accessible to modern audiences and has put it into a real South African context.
She feels that working with three of our country's top actors who are also such "lekker" people is what makes this job a real gift.
Regarded as one of America's greatest playwrights, O'Neill has won four Pulitzer Prizes for literature as well as a Nobel Prize.
Desire Under the Elms, on which Begeerte is based, is considered to be one of his most admired works.
He imagined it in its entirety one night as he slept.
When the play was first performed in 1924, it scandalised some audiences.
Booking is through Computicket or the Baxter Theatre on (021) 680 3989.
---
This work is licensed under a Creative Commons Attribution-NoDerivatives 4.0 International License.
Please view the republishing articles page for more information.
---