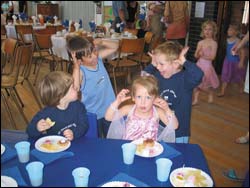 Life's a party: (From left) Molly Ryan, Thomas Théron, Erica Whittal and Eric Rule.
It had all the ingredients of a good party: marshmallows in pink and white, countless rainbow cupcakes and sticky sweets that cling to the back of your pants. All with just enough sugar to get you through the rolling party action (gymnastics, piano recitals, song and dance) with a little something left in the tank to huff, puff and blow out 25 candles.
The milestone belonged to the UCT Educare Centre. It began in 1980 as a volunteer child-minding service, housed in the Student Representative Council offices before it was moved to La Grotta as it expanded.
Like many stories of progress, there are the chapters of woe: in 1987 the facility was almost closed because La Grotta didn't comply with minimum health regulations. There were also problems with university subsidisation and many negotiations took place before the green light was given for the custom-built centre on the slopes above Ring Road.
Today, this is where 75 children (between three and six years) learn, sleep, eat and play, their days and activities coordinated by Marilyn Petersen and her trusty band of nine staffers.
Many staff are indebted to the centre, including academics like Dr Leanne Scott, a senior lecturer in statistical sciences. Scott enrolled two children there in 1993 while she re-established her career. She served on the management committee and later on the Educare Advisory Committee, a body that reports to Council. Shortly after resigning as chair of the committee she found she was expecting another child - and with a PhD on the way. The educare centre provided a haven for her baby while she got on with her dissertation.
"The educare centre has been a cornerstone of my working life at UCT and without it I doubt I would have completed my PhD. My life has been enriched by the supportive relationships that I have built up through this centre."
---
This work is licensed under a Creative Commons Attribution-NoDerivatives 4.0 International License.
Please view the republishing articles page for more information.
---