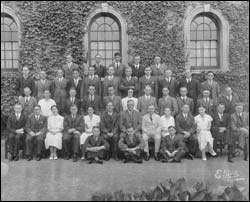 The class of 1935, with Muriel Gruss third from left in the front row.
Muriel Gild (nee Gruss) passed away at the age of 93 in Johannesburg on July 13 this year after a short illness.
Born in Aberdeen in the Eastern Cape, on April 15, 1912 ( the year the Titanic sank), to William (a Jewish immigrant from Austria) and Esther (nee Vilenski, third-generation South African) Gruss, Muriel Gild was raised and schooled in Aberdeen, save for the last four years of high school, when she attended, as a boarder, St Dominic's priory in Port Elizabeth.
She was the second of five children.
Muriel attended UCT Medical School, graduating MBChB in 1935. She was one of only six women graduates in a class of 39 students, and was, to the best of the author's knowledge, the last surviving member of her class.
Following her graduation, Dr Gruss worked in Villiersdorp as a locum following which she studied for the Diploma in Public Health (DPH) at UCT. For a number of years during the late 1930s she worked at the Free Dispensary in Woodstock.
From the mid-1940s, she worked, on a sessional basis, for the Cape Town Department of Health at a number of primary care and ante-natal clinics, including the "old" District Six, and Chiappini Street in the Bo-Kaap. From the mid-1970s until her retirement in 1992 (aged 80) she performed sessional work at the (old) Somerset Hospital in Mouille Point.
In 1940 Dr Gruss married Solomon Gild, subsequently bearing three children, one of whom also graduated MBChB from UCT. Muriel and family lived in Oranjezicht until 1974, whereupon she and Sol Gild moved to Sea Point, where she lived independently until moving into Sea Point Place in 1993. In late 1994 she moved in with her daughter in Johannesburg, where she passed away shortly after a hip fracture.
Until her very early 90s she remained mentally and physically active, with regular bridge games, daily walks along the Sea Point promenade, and active membership in a number of civic associations. Until she was persuaded to surrender her driver's licence in her mid-80s, she also ferried other "seniors" to their medical appointments. Her connection with UCT extended through the graduation of two of her eight grandchildren, two of her children, and her late husband.
The Medical Association of South Africa conferred honorary life membership in 1989, she having been a member of the (now defunct) Medical Association of South Africa.
Having graduated well prior to the advent of the antibiotic era, as well as a myriad of other medical advances, she nonetheless succeeded in keeping current with the latest medical theories and practices. Throughout her professional and private life, Gild maintained the highest standards of integrity and professionalism.
To her, like many of her era, the practice of medicine was more calling than business, and with her passing, sadly, a diminution in the number of medical practitioners who practise the art and science of medicine for the best of motivations.
She is survived by her brother (Jose Gruss, Cape Town), daughter Hilary (Johannesburg), son Henry (Israel), son William (United States), eight grandchildren and four great-grandchildren.
* Submitted by her younger son, William Gild, MBChB (UCT - 1972).
---
This work is licensed under a Creative Commons Attribution-NoDerivatives 4.0 International License.
Please view the republishing articles page for more information.
---