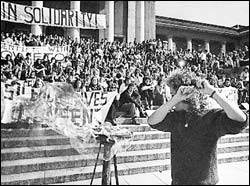 A UCT drama student cuts off and burns a lock of her hair during a symbolic protest in the 1970s held in solidarity with Soweto, and in protest against political detentions.
According to UCT's transformation manager Nazeema Mohamed, South Africa is liberated from apartheid but we still suffer the consequences of its legacy.
"The choice we confront 11 years into our new-born democracy is about building an education system that is free of prejudice and discrimination, which serves all South Africans and assists in building a nation that is free from poverty and inequality."
Mohamed said that in commemoration of national Youth Day (June 16), UCT would like to remember the contributions made by the student movement to the development of South Africa's new democracy.
"We have chosen to officially celebrate Youth Day by organising a series of events during May and June to remember and reflect on the contributions of students generally and UCT students in particular.
"During apartheid, young people were constantly confronted with making choices about striking in solidarity with trade unions or boycotting education as a form of protest against apartheid's atrocities in the education system. The decision to strike or to boycott was immensely emotional and often of great cost to students and their families. With rational arguments for and against these actions, the choice was debilitating and epitomised the horror of the apartheid system," Mohamed explained.
UCT's programme of events is varied in its focus and will celebrate the youth of yesterday as well as the youth of tomorrow.
The university community is invited to attend the following events:
Launch of the programme - May 26, 2005
Remembering and Reflecting: A Process of Healing
Venue: Lecture Theatre 3, Kramer Building, Middle Campus
Time: 16h00 - 19h00 (A reception will be held from 18h00 to 19h00)
RSVP: Michelle Buttress - e-mail: mbuttres@disabilityunit.uct.ac.za
Speakers:
Dr Cheryl Carolus, Chairperson, SA Parks Board and former South African High Commissioner to the UK,
Graeme Bloch, Education Policy Analyst, Development Bank of South Africa,
Sandile Dikeni, political journalist and poet,
Professor Saleem Badat, Chief Executive Officer of the Council on Higher Education.
At this event, the university will also recognise the long-standing service of some of the student development and support staff.
Transformation Seminar - June 2, 2005
Institutional Climate: The impact of legislated racial segregation on our education system
Venue: Oliver Tambo Moot Court, Kramer Building, Middle Campus
Time: 09h00 - 12h00
RSVP: Andile Mhlahlo - e-mail: mhlahloa@bremner.uct.ac.za
Speakers:
Vice-chancellor Professor Njabulo Ndebele,
Professor Crain Soudien from the School of Education and Dr Zimitri Erasmus of the Department of Sociology.
Youth Day Cultural and Music Event - June 11, 2005
Featuring South Africa's top local artists Godessa and Neo Mayanga
Venue: Baxter Concert Hall
Time: 19h00 for 19h45 (doors close at 20h00)
Ticket collection: La Grotto, Alumni House, Glen Darrach Road, Rondebosch, from May 31 to June 3 on a first come first serve basis. Only one ticket per student on proof of student card.
Launch of photographic exhibition UCT Students in Action - June 30, 2005
This exhibition will replace the artwork of Gabriel Clark Brown which is currently displayed in the Bremner building in the Senate Room foyer area.
Further details will be announced closer to the time.
---
This work is licensed under a Creative Commons Attribution-NoDerivatives 4.0 International License.
Please view the republishing articles page for more information.
---