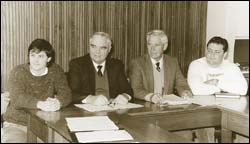 Crowd control: Students were notoriously riotous at the annual rugby matches between UCT and the University of Stellenbosch, and intervarsity committees had to be set up at the two institutions to keep an eye on proceedings. Here, at a press conference in the 1980s, are (from left) Stoffel Ackerman, chair of the Maties intervarsity committee; Prof Jan de Bruyn of Stellenbosch University; UCT's Prof JVO Reid; and Charles Bonham-Carter, chair of the UCT committee.
Monday Paper spoke to the registrar, Hugh Amoore, trawled through the rich pickings at Manuscripts and Archives, and found the following interesting titbits on recent UCT sporting history.
Many may not know that UCT once had its own Flying Club. Launched in 1946 by RG Drummond, a WW2 pilot, the club made its biggest purchase in 1969 when it acquired a R12 000 four-seater Piper Cherokee 140B. That buy may have been essential after a 1967 crash-landing next to the Cape Town airport, involving one of UCT's other planes.
In March 1960, university principal JP Duminy had to remind students of the prohibition against Sunday sport on campus after one or two breaches came to his attention.
Dr Louis Babrow, the former Springbok rugby player, caused a stir in the late 1960s when he, as a member of UCT Council, moved to have boxing outlawed at the university, citing the dangers involved in the sport. Babrow incurred the wrath of many, including the UCT Boxing Club and the Cape Boxing Board of Control. "No harm comes to students who take part in boxing," said Mike Walker of the UCT club at the time.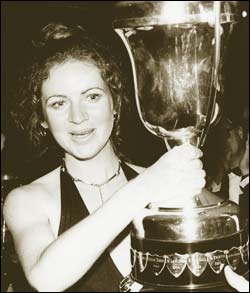 World-beater: In 1980, Isavel Roche-Kelly, UCT sportsperson of the year, became the first woman to win a silver medal at the Comrades Marathon.
Race always cast a pall over sport in the country, of course. In 1975, two out of three UCT teams - spearfishing and underwater hockey - pulled out of a national student tournament at the University of Port Elizabeth after Trevor Abrahams, the coloured captain of the UCT spearfishing side, was barred from taking part. Abrahams remained tight-lipped as the UCT club went toe to toe with the South African Universities Sports Union. "Although I am the team captain, I still have to go back to UCT next year to do my BA honours degree and I would not like to prejudice my position by talking to the press," is all he shared with the Cape Times.
The UCT sports centre opened in September 1977, about a decade after first being mooted. The centre cost some R3-million, including equipment.
Twenty-year old Isavel Roche-Kelly is named the UCT Sportsperson of the Year for 1980. An unknown on the running scene, Roche-Kelly set the roads alight that year when she became the first woman to win a silver medal at the Comrades Marathon. She clocked 7:18:00, well under the silver-medal cut-off of 7:30:00, in the process shattering the women's record by more than an hour. Earlier that year she also became only the third women in Africa to complete a marathon in under three hours. Roche-Kelly died in an accident in Ireland, her country of birth, a few years later.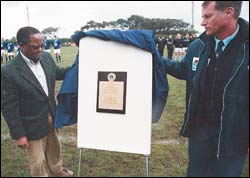 Curtains for Cambridge: VC Prof Njabulo Ndebele (left) and Spencer King, director of rugby, unveil a plaque commemorating the FNB UCT First XV's match against Cambridge, part of the university's anniversary celebrations.
Other Comrades winners hailing from UCT were David Levick in 1973 and Lindsay Weight in 1984. Professor Kevin Rochford, still with the School of Education, has amassed 15 Comrades finishes, including four in silver-medal winning times, in UCT colours since his first race in 1972. Registrar Hugh Amoore has completed six, winning two silvers.
Over the years, a number of rugby-playing students have won the Jamison Cup as UCT sportsperson of the year. The likes of Keith Andrews, HO de Villiers, Chris Pope and Peter Whipp were all thus honoured, usually for donning Springbok colours while still studying here.
In 1989, UCT's South African Tertiary Institutions Students' Congress (Satisco) protested the university's continued sporting clashes against teams from the South African Defence Force and the South African Police on campus. They prevailed, but a couple of clubs suffered the backlash as sports unions denied them any further home games. Against anyone.
After months of talks, James Evans, chair of the UCT Sports Union, and Siseko Ntshanga, chair of UCT's South African Tertiary Institutions Sports Union (Satisu), sign a declaration of intent to create a unified sports body at UCT, in May 1992. A year later, in August 1993, the university launches its branch of the South African Students' Sports Union (Sassu), with Satisu's Thokozani Vilakazi and the Sports Union's Paula Robinson inking the document that heralded a new era for sport at UCT.
UCT hosts a wet and muddy family rugby day in September 2004 to celebrate the university's 175th anniversary. In a special game - preceded by the unveiling of a plaque commemorating the occasion - UCT beats a touring Cambridge XV by 24-11 in a trademark waterlogged rugby pitch.
---
This work is licensed under a Creative Commons Attribution-NoDerivatives 4.0 International License.
Please view the republishing articles page for more information.
---