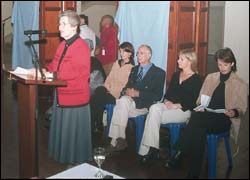 Former Black Sash president and UCT Council member Mary Burton addresses those gathered at the naming of the Molly Blackburn memorial Hall.
UCT's decision to honour the late Molly Blackburn by renaming the hall which currently houses the Nescafé, the Molly Blackburn Memorial Hall, attracted widespread media interest recently.
The naming ceremony on July 8 was aired on SABC TV, and reports were published in newspaper around the country, including one or two newspaper editorials applauding the move on the part of UCT.
Although Blackburn died in a car accident in 1985, an event many regarded with suspicion at the time, her memory is still very much alive in the South African consciousness. Her work in the 1980s in particular, served to bring into the public domain the dark dealings of the security forces, the full nature of which were only fully revealed during the Truth and Reconciliation Commission hearings after 1994.
Blackburn was a member of the provincial legislature for the Progressive Federal Party in the 1980s, and a stalwart of the Black Sash. She is remembered particularly in the Eastern Cape where she highlighted the human rights abuses being perpetrated by the security forces of the time.
Blackburn was also at the forefront of efforts to uncover the facts behind the murder by security police of the Cradock Four - Matthew Goniwe, Fort Calata, Sparrow Mkonto and Sicelo Mhlauli.
UCT council member Mary Burton (a former president of the Black Sash) said of Blackburn: "She will be remembered for her courage and determination in the work that she undertook as a Member of the Cape Provincial Council, sitting in Cape Town, representing the Progressive Federal Party, and as a member of the Black Sash, defending the rights of South Africans to justice and freedom from discrimination.
"She responded fearlessly to appeals for assistance, particularly from areas around her home city of Port Elizabeth, and whenever communities were threatened by violence and repression.
"It was while traveling with colleagues in the Eastern Cape, recording events under the state of emergency, and taking statements, that she was killed in a car accident in December 1985.
"Her life was one of dedication to the cause of bringing justice and peace to South Africa."
Vice-Chancellor Professor Njabulo Ndebele said Blackburn had been "a remarkable woman who was one of the truly great South Africans to stand up and be counted during one of the darkest periods of our history".
* This is the second Molly Blackburn Hall on campus. The previous venue no longer exists due to extensive remodeling on upper and middle campus. The new Molly Blackburn Memorial Hall is a popular meeting place for students.
---
This work is licensed under a Creative Commons Attribution-NoDerivatives 4.0 International License.
Please view the republishing articles page for more information.
---