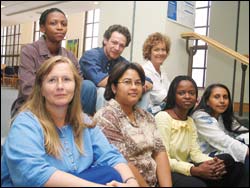 Sterling staffers: UCT's five star staffers from the commerce library are (from left, back) Nozzi Mayekiso, Alex D'Angelo and Susanne Noll. (From left, front) Laureen Rushby, Marlene Adonis, Nqabisa Nkangana and Hajiera Davids.
Last week Monday Paper called on the university community to nominate candidates for our five star staffers column.
We are pleased to report a healthy response and we would like to introduce our first candidates to you.
Nominated by Dr Jean-Paul Van Belle and Elsje Scott from the department of information systems, the commerce library staff have been described as "extremely organised and proactive".
Van Belle pointed out: "They are fantastic! Many of our postgraduate students are only on campus on a part-time basis, and the library staff never mind taking them on tours after hours or even on Saturdays. They really do go the extra mile."
Scott explained that the team execute all book orders immediately with records of orders always kept up-to-date.
"They react to any kind of library request and provide excellent and efficient assistance. Keeping records updated simplifies tracing and helps to solve problems very easily and promptly."
With a "refreshingly positive attitude to everything they do", Van Belle said that he had never heard the team utter a negative word about having too much work or not having enough time. Responding to the nomination, Alex D'Angelo, manager of the commerce library, said his team's success could be attributed to the fact that they enjoyed their work.
"This is a wonderful acknowledgement of our efforts. We adopt a student-focused approach to ensure that they know us by name and face so that they don't feel alone in the library.
"For us, work is fun and we enjoy it. It therefore comes quite naturally that we do whatever we can to help students and staff," he added.
Well done to the commerce library staff and keep up the good work!
Monday Paper once again urges you to sing the praises of any unsung hero or heroine quietly toiling away in your department, library or lecture room. Our plan is to recognise their sterling undertakings, find out what makes them tick and bring the story to you, our reader, in our weekly column.
So please think about candidates you could nominate and why you think they are five-star staffers and then call Helen Théron on 650-4145 or email theronh@bremner.uct.ac.za.
---
This work is licensed under a Creative Commons Attribution-NoDerivatives 4.0 International License.
Please view the republishing articles page for more information.
---