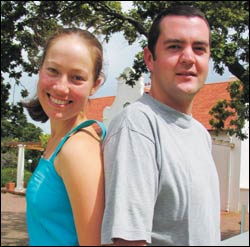 Back-to-back: Newly-weds, the Bonorchis will graduate within days of one another this week, Dean with an MSc (mechanical engineering) and Kim with her MBChB.
Like most young couples, Dean and Kim Bonorchis enjoy doing things together. This week the pair will graduate together, Dean with his master's in mechanical engineering and Kim with her MBChB from the health sciences faculty.
Though not quite back-to-back, their ceremonies are within days of each other; with Kim donning her gown today (December 8) and Dean his academic regalia on Thursday.
Kim's mother, Ursula Baldwin, will be among the throng in the Jameson Hall, having travelled all the way from England to celebrate her daughter's achievement. And Kim's sister, Caron, will join the family group from Durban.
To cap things (if you'll pardon the rotten pun), Dean and Kim celebrate their first wedding anniversary on December 21.
Both hail from KwaZulu-Natal, Dean from Pietermartizburg and Kim from Westville. They met at a Bible study group in 1999. "I was strongly attracted to Kim's people personality," Dean said.
Kim was home from her medical studies at UCT ("UCT is a good medical school and has a good reputation. There are many students from KZN here.") and Dean had three months left of his undergraduate degree at the University of Natal.
Studying on a Sappi bursary meant Dean had to spend two years in Mpumalanga. But the duo kept in touch via e-mail and phone and visited one another every other month. At the end of his Sappi commitment, Dean decided to pursue postgraduate studies at UCT (he cites the world-class engineering faculty as his reason for heading south and we'll leave it there).
They were married in Westville at the end of last year.
Dean, who enjoys technology and computer simulations, plans to pursue PhD studies in mechanical engineering in the faculty's Blast, Impact and Survivability Research Unit (BISRU). He will be funded by the Centre for Scientific and Industrial Research's defence technology programme. Working under the supervision of Professor Gerald Nurick, Dean will be investigating the effect that blast loads have on welded structures, with the aim of making them lighter and yet safer.
As it is an intensive course with plenty of experimental work, it will mean an additional three years' study. And if he goes ahead, he will be one of a small number of full-time PhD students in the field. For Kim, the attraction of medical studies has always been the people side of things. She first read for a BSc but in medicine found the ideal marriage of biology, science and people.
But one tiny blot on the couple's horizon is not knowing where Kim will be posted for her community service after she completes her internship at Groote Schuur Hospital next year. With her husband firmly set on his PhD studies at UCT, she hopes it will not be too far from the Mother City.
---
This work is licensed under a Creative Commons Attribution-NoDerivatives 4.0 International License.
Please view the republishing articles page for more information.
---