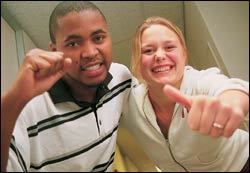 Way to go: Thabiso Montyatsi (left) and Bee Wijsenbeek received the Vice-Chancellor's award and Deputy Vice-Chancellor's award, respectively.
UCT's first-ever Student Leadership Awards ceremony saw outgoing SRC president Thabiso Montyatsi walk away with the Vice-Chancellor's award. Hot on his heels was Bregje (Bee) Wijsenbeek, who got the Deputy Vice-Chancellor's award.
The ceremony in Jameson Hall last Wednesday night was a colourful affair, with a jazz band and the UCT choir providing the music, as 10 awards were made to students who have excelled in leadership on campus this year.
Monyatsi won his prestigious award for his dedication to the Student Representative Council over the past year. He has a passion for student governance and has been instrumental in promoting UCT. Besides the key role he played in the UCT Gender Forum, and has made many contributions to national conferences.
Wijsenbeek, was recognised for her contribution towards promoting gender and racial equality at UCT. Her work as part of the forum helped to ensure that the issue of gender violence, in particular rape is addressed, culminating in a very successful UCT march against all forms of gender violence earlier this year. The commendation also said she had been a superb liaison for students and the SRC with student organisations.
Deputy Vice Chancellors Professor Martin West, Professor Cheryl De La Ray and Professor Benito Khotseng as well as Dean of Students, Dr Loveness Kaunda, were among those who attended the ceremony.
Student leaders from the university and across the Western Cape, as well as prominent UCT alumni, business, and community leaders were also invited.
Khotseng said Wijsenbeek had "provided women student leaders at UCT, both present and future, with a solid role model and an excellent example to follow".
UCT alumnus Andile Mazwai and Naledi Pandor, Chairperson of the National Council of Provinces and Chancellor of Cape Technikon, were the guest speakers, who motivated and congratulated student leaders at the university.
"Student leadership is about preparing for government and entrepreneurship", said Pandor. "Their achievements are important for the future of our country."
Other awards made at the ceremony were:
The Dean of Students' award, recognising inspirational student leadership, went to Julia Cloete for her key role in SHAWCO. She participated in the Gender Forum and Societies' Task Team and was also a member of the Student Parliament. In 2002, she was also a member of UCT's student delegation to the World Summit on Sustainable Development.
Thandiwe Gilder was the recipient for the award of most outstanding student leader in a community service. She played a key role in the Students' HIV/AIDS Resistance Programme (SHARP), and in 2002 was Outreach Workshops Co-ordinator, organising and running workshops in schools across the Western Cape.
The most outstanding student leader in a faculty council, was Thomas Brennan, who was described as, " a role model for all the members of his committee, and has brought an enthusiasm and fun to what can often be a dull process".
Alasdair Kelly and Kate Orkin shared the award for most outstanding student leader in a society or student organization. Kelly was recognized for his significant contribution to RAG, and formed an integral part of a team that raised in excess of R600 000 for SHAWCO. He is on the SHAWCO Board, and was a RAG project manager was part of the Intervarsity Rugby Committee and the Engineering Graduation Committee. He is described as "a strong and organised leader who motivates and unifies his team to ensure that their strengths are maximised and developed". Orkin, who is a first year student, was recognized for her contribution to the UCT Debating League. She played an instrumental part in the Township Debating Union, which has been extended from eight schools in two areas, to 21 schools in seven areas.
Fiona Burrows was awarded the most outstanding student leader in media, and was a member of both the Student Media Committee and the Gender Forum. Varsity Online, the first online version of UCT's student newspaper, was launched under Burrows' leadership this year. Varsity this year had a much higher profile on campus and succeeded in publishing debates around some very controversial and sensitive issues.
The most outstanding student leader in sport was Dave Waiting, who led his sports club to win the Sports Club of the Year and Website of the Year Awards. He is the 2003 SASSU-UCT chairperson and was the vice-chairperson of the Sports Council. He has always been responsible in his involvement in handling the SA Sailing Association, and in ensuring a positive image of the UCT Yacht Club.
Lonwabo Kulati won the award for the most outstanding student leader in a residence. His acceptance of this award was met with a cheer from the crowd, obviously impressed with the recipient. He was recognised for the role he played as a student leader in Leo Marquard Hall.
In her message Kaunda said: "In many ways, student leadership at UCT has contributed to the mission of the university through outstanding leadership. Through the various formal structures, they contribute to the development of local communities in the Western Cape and nationally. It is these endeavours, contributing to institutional transformation, development and nation-building that we wish to acknowledge through the Student Leadership Awards".
---
This work is licensed under a Creative Commons Attribution-NoDerivatives 4.0 International License.
Please view the republishing articles page for more information.
---