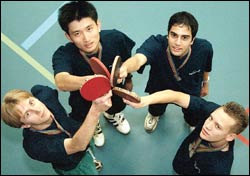 All for one and one for all: UCT's table tennis team, clockwise from bottom left, Jason Brickhill, Yu-Lun Chiang, Sa-aadat Parker and Lloyd Hardick, took a haul of medals at the recent SASSU Games.
The four members of the UCT team that competed at the national SASSU table tennis championships all feel they missed out on one big medal, but are still pretty chuffed with their overall haul.
In addition to taking silver in the team event, the squad - Lloyd Hardick, Jason Brickhill, Sa-aadat Parker and Yu-Lun Chiang - now also boasts the country's top student player in SASSU debutant Hardick. Hardick - to his own surprise, he says - beat all other contenders to win top honours in the men's event.
In doing so, he also amassed plenty of support from the crowd who, reports Brickhill, hailed him as "the champion of the SASSU's".
The 18-year old science student took a second gold medal at the tournament, hosted by the University of the North-West in Mmabatho, when he and the University of the Western Cape's Shameeza Mullins teamed up and won the mixed-doubles competition. Brickhill and UWC's Leandre Lentz won bronze in the same event.
The two universities' squads, reported Brickhill, travelled together and formed an unofficial provincial coalition that saw a more official collaboration between the UCT men and UWC women on the competition floor.
The rest of the team did themselves proud as well, making it into a couple of quarter- and semi-final stages. On the basis of their eye-catching feats at the games, Hardick and Brickhill were both selected for the national shadow squad of eight players, from which a team will be selected to represent South Africa at the Confederation of University and Colleges Sports Association (CUCSA) Africa Zone 6 Games in 2004.
Naturally, there's plenty to be pleased about, but the team still rues their defeat at the hands of the Durban Institute of Technology (DIT) in the finals of the team event. "We were a bit disappointed about losing the final, which was a bit of an anti-climax," said Brickhill.
"We were building up to it - all our group matches were fairly easy and the semi-final was easier than the 4-3 score suggested. We felt afterwards that if we'd done our order differently, we might have done better."
Lessons learned for next time. "We're still happy with how we did."
---
This work is licensed under a Creative Commons Attribution-NoDerivatives 4.0 International License.
Please view the republishing articles page for more information.
---